Interview with LIGHTS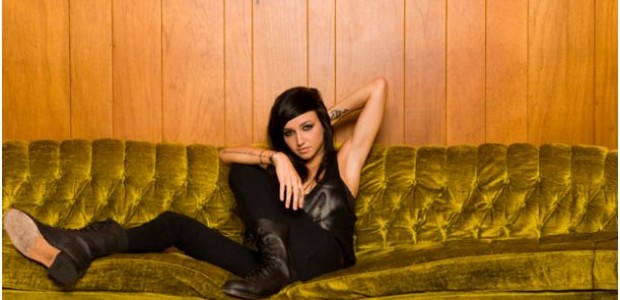 Stand me up and maybe I won't be so small. Free my hands and feet and maybe I won't always fall...save me are the powerful lyrics from singer/songwriter, LIGHTS. Don't let her electropop sound fool you; behind the sound of the keytar, guitar, and other instruments infused into her sound, LIGHTS brings strong lyrics and a glimmer of hope in her music. This Juno Award winner continues to evolve, and her collection of work boasts an acoustic EP, which includes a cover of Rancid's Fall Back Down; the Ice Pack, which features remixes of her song, Ice; and much more as she continues to experiment and grow as an artist.
I chatted with LIGHTS about music, knee slides, bucket lists, Comic-Con, and much more.


UpVenue (UV): Are you performing tonight?

LIGHTS: Yeah, we're actually doing a show, a university show for Frosh Week At Brock in St. Catherine's. It's not a public one but it's going to be good, I think.

UV: Cool. And what do you do when you have days off in between while touring?

LIGHTS: Days off usually involve relaxing as much as I can, staying indoors, just having some alone time, you know? Or playing World of Warcraft...and just fooling around on my guitar, walking around. It's just really relaxing, and I get the most out of it that I can.

UV: Your music is very honest. You've turned some of your darkest moments into songs that show positivity instead, like Saviour. How do you feel when you see a fan living out their own experience through your songs?
LIGHTS: That's huge for me, and thank you very much, by the way. One of the things I think is so important is to be honest, and make sure that you're saying things that you really mean. Then, no matter who likes it or not, it's something you needed to get out, and seeing other people affected by it is like icing and gravy on everything, you know? It works for me, and if it can work for someone else, that's amazing, and that's really cool.


UV: You were recently part of Lilith Fair. How did that come about?

LIGHTS: At first, it was through my agent, who was like, 'you get to be on Lilith Fair,' and it was exciting and it was really cool because one of the legendary festivals had made its comeback and I was so excited to be able to be part of the festival with so many women in music. I didn't even have to question, would I ever do it. It was a yes.

UV: Right; that must have been pretty amazing to be part of a group of women who are some of the biggest women in music today.

LIGHTS: You could definitely feel it, especially at the Toronto date when I had the chance to play on the main stage with all of these other women that are so celebrated in music like Sarah McLachlan and Mary J. Blige. It was just like, wow, I get to be up here in front of 15,000 people, among these women, as an equal.

UV: Wow. Where there any performances on that tour that you just had to watch – as a fan?

LIGHTS: One of the ones that was cool was Kate Nash. We were only on one date with her but it was on the side stage, and we were on the same stage and it was cool to see her.

UV: Cool.

LIGHTS: Mary J. Blige was awesome, too. She killed it.

UV: For someone who'd never heard your music before, how would you describe your sound in five words?

LIGHTS: In five words…umm…that's tricky. Let's see. Does it have to make a functioning sentence or can it be five descriptive [words]?

UV: It can be descriptive.

LIGHTS: Okay. Electronic landscape of moody sunset times. If that makes sense… (laughs)

UV: (laughs) Cool.

UV: I was watching the video for Second Go – who came up with the concept?

LIGHTS: It was kind of a collaborative concept development between me and my manager. I was originally going to do a bigger, more exhaustive plot, and we had the date and everything for when we were going to shoot it. Two weeks beforehand, my manager calls and was like, 'Remember that first idea you had for Saviour?' because my first idea for the Saviour video was to be throwing paint around, but it kind of disappeared; we didn't do anything with it.
He said, we can do that for Second Go, and I was like, 'Whoa…I don't know' because we had to shoot it in two weeks, but I got my mind around it and talked to the director, and we came up with a whole plan two weeks before we shot it.

UV: Wow.

LIGHTS: And we thought that the only way this video was going to work is if it's all in one shot and it was purely a conceptual video because it doesn't really have anything to do with the song. Although later, I discovered the irony that the video was shot in one take for a song called Second Go, so I thought that was kind of funny. It really had nothing to do with the song; it was just, here's a concept that's going to be cool, and it turned out really well.

UV: I was actually thinking about that when I watched it, that you would probably have to have done it in one shot because unless you had a second house to paint on, it would be really hard…

LIGHTS: Exactly! I just destroyed the set after the first take so I just hoped it was good. There were so many things to think about, like 'don't get paint on the camera, don't get too much on your face, don't make too much of a mess, don't make too little of a mess,' you know? It's like a lot of things to think about but it turned out really well.

UV: It looked like it must've been a lot of fun, just letting loose.

LIGHTS: It was kind of liberating. I've never thrown so much paint around before.

UV: Cool!

LIGHTS: I've never done a knee slide across the floor in a pile of paint. That was great.

UV: Sounds like something everyone should get a chance to try out. Sounds like fun.


LIGHTS: I know! I totally agree. Put it on your bucket list.

UV: I will. How did Audio Quest: A Captain Lights Adventure come about?

LIGHTS: I'm a huge comic fan. I love comics and when The Watchmen movie came out, they put the actual comic into a semi-animated, online platform so you could watch the original comic. It's not animated, it's kind of like reading an actual comic, only kind of better. And I really like that because it brings comics to multimedia platforms, and it's something you can look at online in more of an advanced way, I guess. And I really wanted to do something like that. And I wanted to create a comic of some kind, kind of expanding on the original comic I made; it was my bio. My first bio ever was a comic I illustrated, and it seemed to go over really well and described the things that I liked and the things I was all about.
So Warner is my record label in the States, which is really cool, and the social media department was so enthusiastic and passionately creative, so they said, 'Why don't we hook you up with Tom Coker?' Tom Coker is a Marvel illustrator, and his stuff is normally darker, and my stuff was a little bit lighter, and I wanted to go a little bit darker, and he wanted to go a little lighter. He told me that he was in a point in his graphic novel career and comic career that he couldn't show his little daughter his artwork because it was a bit too graphic. So he wanted to take it one step lighter, so it was kind of the perfect moment for both of us to work together and we brainstormed the character and brought it to life. It was so cool, it was such a great experience. I know that I'll continue the series at some point, just not sure how or what.

UV: It must be a great feeling to be a superhero.

LIGHTS: It really is. I was definitely living vicariously through Captain Lights.

UV: So you're a fan of comics; have you ever been to Comic-Con, or anything like that?

LIGHTS: We have a version of Comic-Con in Toronto. It's called FanEx, though. Obviously Comic-Con is all the way down in San Diego, and it's a bit far for me to go, but FanEx is right down by the CN Tower, so it's comics, anime, major league gaming, horror, sci-fi, just everything that I love all in one convention. But I missed it this year, unfortunately, because I was on tour but I went the last couple of years. It's just so much fun and I just love it. I always come home with bag loads of stuff.

UV: You started as a writer for ATV/Sony Music Publishing. What was the most interesting piece you contributed to?

LIGHTS: They signed me more on the basis of my potential as an artist. So even though I was signed on as a songwriter, it was more to hone me to find the right songs for me. So it wasn't a whole lot of outside writing that I did; it was a lot of training me up to know what is a good song. I had all of these melodies and everything but I didn't know how to structure the songs. […] So my first year at Sony, they were kind of like my song-writing parents. They would show me songs like Joga from Bjork, and Both Sides Now by Joni Mitchell - like these are good songs, and why people like those songs. So I was always focused on writing, though I did do some minor stuff on the outside; I wrote for a tv show called Instant Star. Otherwise, it was mostly just working for myself.

UV: If you had the chance to collaborate with someone or write music for someone, who would it be?

LIGHTS: It's a good question because there's some people I want to work with but you don't want to jinx it. But at some point, it would be fun for me to sing with Michael Bublé. That would be so cool.
HighLIGHTS from the interview

Official Video for Second Go
For more information about LIGHTS, check out her official website at http://www.iamlights.com/.
LIGHTS will be performing in Montreal, Quebec on November 20, 2010 at Club Soda (1225 St. Laurent). This will be presented by Greenland Productions and Evenko.
Here are some other articles we think you'll enjoy
Liked this article? Stay informed!
Tell Us What You Think