Robyn at Montreal's Metropolis Concert Review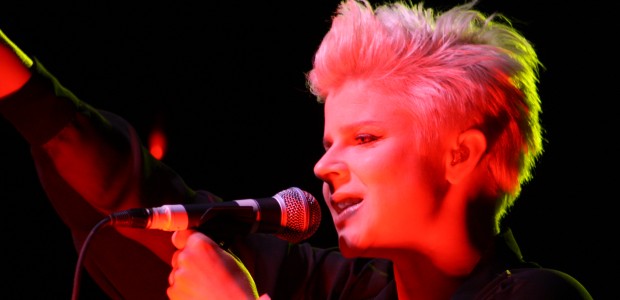 The last time Robyn was in Montreal, she was performing on one of the side stages at the Osheaga Music Festival; this time around, she was headlining a sold out show at the Metropolis. Opening for Robyn were Natalia Kills and Diamond Rings.
Natalia Kills
Natalia Kills took to the stage under the red glow of the stage lights with one goal in mind: get the crowd ready for Robyn. That wasn't a very difficult task, considering most of the crowd was dancing even before the opening bands took to the stage. Playing a very short set, Natalia Kills seemed to have won over the crowd, especially with her single, Mirrors. If you're a fan of pop and a Lady Gaga-esque sound, look out for a new album from Natalia later this year.
Diamond Rings
Diamond Rings, a Canadian one-man-band, was up next. Coming on stage wearing what looked like a wolf mask, John O'Regan bounced between his keyboard and a lone microphone stand, pumping up the crowd. While setting up his guitar, he made it a point to let everyone know that it would be the only guitar that the crowd would see during the night, and he was right. Before playing his last song of the night, It's Not My Party, John let us know that he had just finished filming the video for the song last week in Toronto. Just before leaving the stage, he left us with these words, "Stay fierce, stay safe." You can bet that everyone was ready for a fierce performance by Robyn.
Robyn
The lights went down and the glow sticks came out to welcome Robyn to the stage. As if the crowd wasn't energized enough, as soon as she started singing the first lines of Time Machine, it was as if everyone's winter boots suddenly changed into dancing shoes. Having been to many shows at the Metropolis, this was the first time I could feel the upper level balcony shake because of the dancing.
With a setlist comprised mainly of songs from her latest release, Body Talk, Robyn took control of the crowd from the start; however, there were some hiccups. As any artist knows, the biggest faux pas during a live show is to call out the wrong name of the city you're playing in; Robyn was guilty of doing this twice. To make things worse, she called us Toronto. Blasphemy, I know. To Robyn's credit, she did catch herself right after saying the wrong name apologizing to the crowd who did not hold it against her.

Keeping things simple, Robyn was joined on stage by two keyboardists and a drummer (apparently, there were supposed to be two drummers, but one got held up at the border before the Toronto show). While most of the songs played last night were from Body Talk, Konichiwa Bitches and With Every Heartbeat were played from her 2005 self-titled release.

Playing two encores, Robyn ended the night by changing the tempo completely by performing an almost acapella version ABBA's Dancing Queen followed by one of her biggest hits, Show Me Love.

While watching Robyn perform, you can't help but see that she is truly enjoying what she does. She doesn't need to have a huge backing band, she doesn't need a colorful backdrop on stage; all she needs is an audience. Give her that and you'll have one hell of a show.
Here are some other articles we think you'll enjoy
Liked this article? Stay informed!
Tell Us What You Think