Anya Marina at La Tulipe in Montreal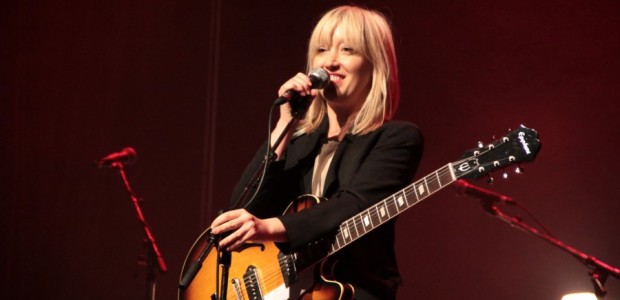 Anya Marina has been making waves as of late with her songs appearing on many hit TV shows including Gossip Girl, Grey's Anatomy, and How I Met Your Mother. As her career continues to bloom, she made a quick pit stop in Montreal earlier tonight, opening for Joshua Radin at La Tulipe.
Early on, she prompted the audience with whether or not they've ever "dreamed of making love to a vampire." While some laughed and others grinned in confusion, it was in reference to her song, Satellite Heart, from the Twilight Soundtrack. Throughout the night, Anya had no problems getting the crowd to be "part of the band," which is a must when you're a solo artist. She took a break between songs to take out her iPhone and shot a quick video of the crowd. She called it her "selfish moment" but her fans ate it up, waving at her phone in excitement. Anya finished the night with her melodic rendition of T.I's Whatever You Like, which was more than welcomed.
Make sure to pick up Anya Marina's EP Spirit School, which is already available in stores. Her next full album release is expected this spring.
Check out our full Anya Marina Concert Gallery.
Make sure to visit Anya Marina's Homepage for more information. For more Montreal concerts, visit Greenland and Evenko.
Here are some other articles we think you'll enjoy
Liked this article? Stay informed!
Tell Us What You Think