Best Coast and Wavves Montreal Concert Review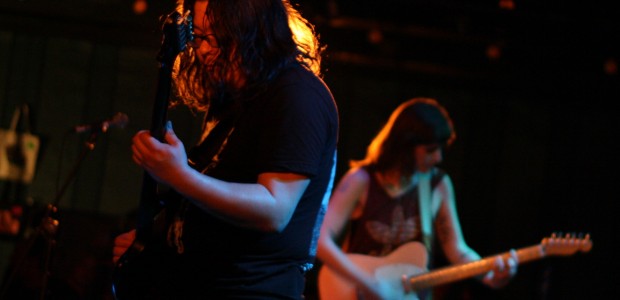 Before Best Coast and Wavves set out on their co-headlining tour, the Californian bands had a plan; they wanted to bring "the summer to places where it's fucking freezing." In an interview with Spin.com, Bethany Cosentino of Best Coast said, "We've been talking about what we want the vibe to be — we want it to be a beach-themed sort of thing, but we're still brainstorming." Considering the blizzard-like conditions that hit Montreal just prior to the show, a beach theme is just what we needed.

Joining Best Coast and Wavves were Montreal's own, No Joy.
No Joy

The lights dimmed and No Joy took to the stage; however if you didn't know that they were on the bill, you would have no idea who they were. Without introducing themselves or having any interaction with the crowd during their entire set, No Joy performed a thunderous set fueled by their drummer. While it was difficult to hear the vocals at times, they still performed a strong set which got the energetic crowd ready for Wavves.
Wavves

Firing beach balls into the crowd, Wavves took to the stage and the crowd went crazy -- really crazy. Using the stage as a diving board, fans launched themselves into the crowd while others just found themselves being thrown into it. At one point between songs, a girl from the crowd yelled out that her nose was bleeding, frontman Nathan Williams replied with "get her a tissue" while drummer Jacob Cooper said, "You shouldn't fuck the stage," that didn't stop her, I'm pretty sure I saw her jump off the stage shortly thereafter.


While the venue was small, Nathan set out a challenge to the crowd surfers saying that if someone was able to crowd surf all the way to the bar at the back of the venue and order him a drink, he would give them a free shirt. A short while later, someone approached the stage with a beer, Nathan took it and told the crowd "I've just been roofied"; I wonder if the fan ever got his shirt.

Playing songs mainly from their most recent releases, Wavvves and King of the Beach, Wavves played a 16 song set ending with their recent single, Post Acid. Once the band left the stage, a lot of the crowd did too; some just left to get some fresh air, while others left after seeing the band they came for. It was a much better performance than the last time that Wavves was in town.
Best Coast

Coming out to 2 PAC's California Love, Best Coast changed the mood completely; instead of moshing and crowd surfing, the crowd showed their appreciation by gently swaying along with the music. Playing songs from their various 7" releases; frontwoman Bethany Cosentino really seemed to enjoy herself playing to a sold out Montreal crowd. Starting out the night with This is Real and Bratty B; Best Coast also performed their hit singles When I'm With You and crowd favorite, Boyfriend.
Changing things up, they also performed a cover of Loretta Lynn's Fist City. As the show went on, the crowd seemed to get more energized and gentle swaying was replaced by awkward moshing; a few people even decided to dive off the stage. Bethany seemed to find this very amusing smiling away as fans dived in.

As mentioned earlier, before Best Coast and Wavves set out on tour, they wanted to create a beach vibe; by the end of the night, they accomplished just that with the help of the beach balls, the summery music and the heat generated by a sold out show. It almost made us forget about the blizzard outside. Almost.
Here are some other articles we think you'll enjoy
Liked this article? Stay informed!
Tell Us What You Think