5 Crazy Things That Happened At The 2011 Grammy Awards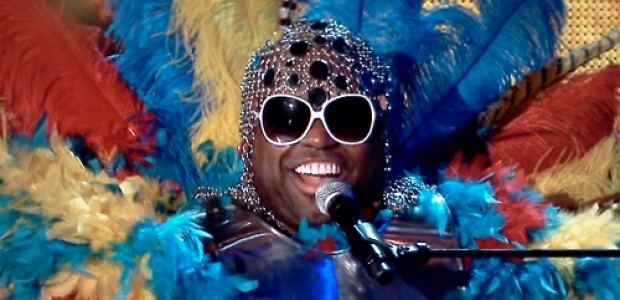 With the 53rd Grammy Awards now over, we look back at a night filled with pretty dresses, big surprises and great music. Here are the 5 craziest things that we witnessed at tonight's big event.
Christina Aguilera tumbles again
After butchering the lyrics to the US National Anthem last week, Christina Aguilera was joined on stage by four sexy female singers: Martina McBride, Yolanda Adams, Florence and Jennifer Hudson. They performed a tribute to Aretha Franklin by playing her hit You Make Me Feel. As they bowed down, Christina lost her balance and almost fell off the stage. She came back and said "And that was a real sexy ending."
Lady Antebellum wins Record Of The Year
In what was one of the biggest upsets of the night, Lady Antebellum won Record of the Year with Need You Now. They bested Nothin' on You by B.o.B, Love the Way You Lie by Eminem, Fuck You! by Cee Lo and Empire State of Mind by Jay-Z and Alicia Keys.
What came first: the Cee Lo or the Gaga?
Everyone knew that Lady Gaga would up it a notch in the dressing department; she had mutant shoulders, she hatched out of an egg and performed in a revealing Hare Krishna-like outfit. What we didn't expected was Cee Lo Green to play Fuck You.. sorry Forget You.. in a giant feathered suit with a metallic front. What? A picture is worth a thousand words so have a look below. To make his performance even weirder, halfway through the song Cee Lo invited Gwyneth Paltrow in for a duet.
Justin Bieber Loses New Artist of The Year
It looks like New Artist of the Year doesn't really mean new anymore as Drake and Bieber, both who released music in 2009, were nominated. In a surprise move that made millions of girls on Twitter and YouTube cry, Bieber lost New Artist of The Year to Esperanza Spalding; who has actually been making music for a decade now.
Arcade Fire Win Album of The Year
After losing to The Black Keys for Best Alternative Album of the Year, it was pretty much assumed that Arcade Fire would lose the main event. To make matters worse, Arcade Fire was up against Eminem, Lady Gaga, Katy Perry and Lady Antebellum -- not exactly the easiest of competition. After playing a seizure inducing rendition of Month Of May complete with massive strobe lights and professional BMX riders, Win Butler accepted the award with the words "What The Hell"?; which I believe was on everyone's mind. Right after they gave their props to Montreal for letting them be a part of their community, Win said "We're going to play another song because we like music." The band went back to the stage and performed Ready To Start.
Here are some other articles we think you'll enjoy
Liked this article? Stay informed!
Tell Us What You Think