Whywhynot Concert Review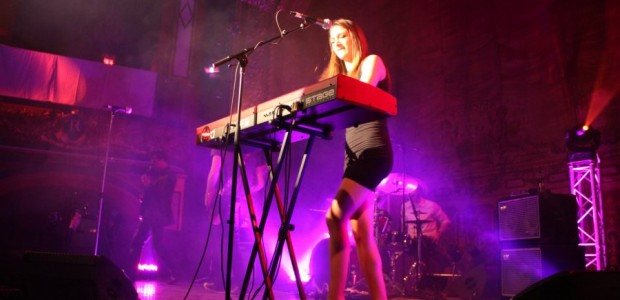 A Montreal landmark, the historic Rialto Theater is best known for its Rocky Horror Picture Show performances. Rialto is also the host of numerous intimate concerts from various groups spanning multiple genres. Last night, we were treated to a special show by Montreal "trip-rockers," Whywhynot. We first met with the band last December when we interviewed the upcoming stars; since then, we've been eager to see them in action. Did they live up to our expectations? Keep on reading to find out.
Talking stage a little bit past 11pm, Whywhynot wasted no time by beginning with the song Go Easy Viking Man. Fans left their tables and danced in front of the stage as the sexy and elegant lead singer, Gaëlle Campos-Béragne, graced us with her voice. Song after song, Whywhynot changed things up; not one of their tracks could be mistaken for the previous -- a trait that is hard to come by in most modern bands. Their sound is a modern contemporary take on a mid 20th century style; They refer to it as trip rock. The crowd ate up tracks like Drowning, Dreams and Thoughts, and their cover of Bare Necessities.

They played nine songs before their fans began stomping and cheering demanding for more. Alexandre returned to the stage and stated that the rest of the band didn't want to play anymore. He began singing Back-Up Singer Blues. Moments later, the rest of Whywhynot returned and helped him finish.

Despite Gaëlle telling us that she had pre-show jitters, all was gone the moment she walked on stage. Even though Whywhynot is a newer band that is still hard at work trying to finish their first album release, they played like veterans last night and were in sync with one another. Look out for them in the future.

We'll post a couple of songs from last night tomorrow but in the meanwhile, check out their site for a free download of the track, Shades of Gray.
Whywhynot Setlist
1. Go Easy Viking Man
2. Shades of Gray
3. Don't make a sound
4. Another day
5. Drowning
6. When you Kill me
7. The Sea
8. Eyebrows Raised
9. Bare Necessities

Encore

10. Back-Up Singer Blues
11. The way Things Go
12. Dreams and Thoughts
Here are some other articles we think you'll enjoy
Liked this article? Stay informed!
Do you think Whywhynot has what it takes to make it big?