Will Arcade Fire beat Justin Bieber at the Junos?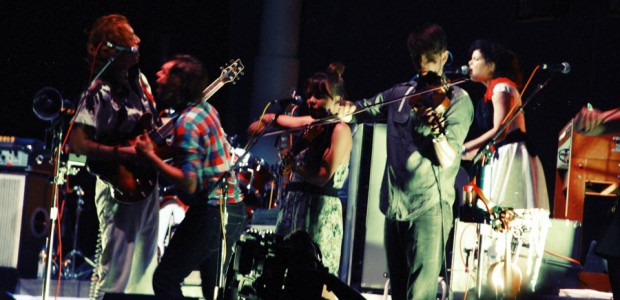 The 2011 Juno Awards are quickly approaching and the question many Canadian music fans are asking is whether or not Arcade Fire will win Album of the Year again. It wasn't that long ago since the Montreal-based indie group stunned the music industry by winning a Grammy Award for Best Record with The Suburbs. Arcade Fire finally got their recognition at the ceremony, but that didn't prevent a huge backlash on Twitter from people who didn't know who the band was, therefore they must have "sucked"; let's not confuse fame with talent. The confusion even prompted the creation of the website, Whoisarcadefire?

Fast forward a month and change later, and the band has once again been nominated for The Suburbs. This time, they're face to face with another fellow Canadian singer who is a little more known on Twitter -- Justin Bieber. It's an apple and orange comparison but it's still going to be a pretty interesting battle nonetheless. Arcade Fire are on a hot (no pun intended) streak right now after several award wins, and headlining an impressive amount of sold out shows.

Bieber is fresh off his movie debut, Never Say Never, and hasn't lost steam since his debut a couple of years back. He's sitting comfortably on top of YouTube with the most-viewed video of all time with his song, Baby, featuring Ludacris. He was, however, topped in the iTunes store by Rebecca Black this past Friday...you know, the day after Thursday but before Saturday, and two days before Sunday. We doubt that will last very long.

With all eyes on Arcade Fire and Bieber this Sunday, it wouldn't surprise us much if the nod goes to Drake's Thank me Later, Hedley's The Show Must Go, or Johnny Reid's A Place Called Love. It will be interesting, and Twitter will explode either way. Make sure to tune in to the Junos at 8pm EST this Sunday. We'll be at the event and JunoFest this weekend so expect a flood of images and information.
Arcade Fire - Wake Up (From the album Funeral)
Justin Bieber - Never Say Never

Here are some other articles we think you'll enjoy
Liked this article? Stay informed!
Who do you think will win Album of the Year at the 2011 Juno Awards?