Memphis in Montreal Concert Review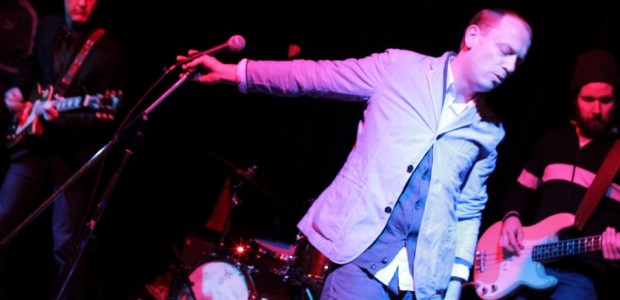 Il Motore served as home to indie band Memphis last night in Montreal. The group, formed by Torquil Campbell (from STARS fame) and Chris Dumont, played in front of very receptive crowd. Il Motore is a smaller venue but industry veteran Torquil's voice was filled with so much emotion that you'd think hundreds of thousands were watching.

The night began with Torquil taking stage and telling fans to "gather around." As the crowd approached the stage, he took the mic and added "That's all I have to say for now, gather around" and he left temporarily. He returned a few moments later and asked if anyone had a spare 9 volt battery and then joked "What? None of you carry 9 volt batteries with you?" Throughout the night, Torquil kept the communication with the crowd alive, often making references to local bars, the upcoming elections and the west island suburb of Montreal where a few of his band members originate.

The set was a mixed bag, featuring older songs as well as newer tracks from their recently released album, Here Comes a City. The opener, Second Summer, was a lot heavier live than the mellow piece found on I Dreamed We Fell Apart. It was immediately followed by their brand new song, Apocalypse Pop Song which was well received. Torquil conveyed his emotions by singing fiercely with fire in his eyes; it was almost frightening, but it worked well. Standouts included I Am The Photographer--though call me biased as I was snapping away with my SLR while he was singing--5 Loops, and the closer, Whiskey.
Memphis in Montreal Concert Pictures


Memphis are currently touring Canada and well worth checking out if you're looking for a way to spend the night. Their new album, Here Comes a City, is now on sale.
Memphis Montreal Setlist
Here are some other articles we think you'll enjoy
Liked this article? Stay informed!
What do you think of Memphis' new album?