2011 HeavyMTL Bands To See - Custom Lineup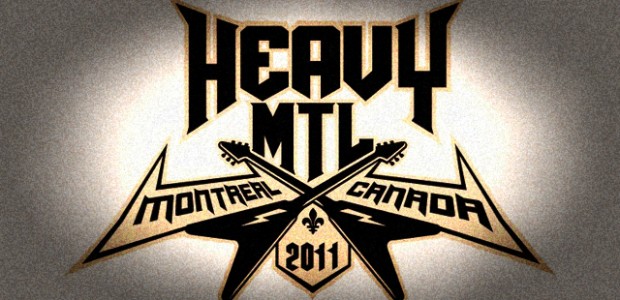 JazzFest and the massive U2 concert may be over, but the music festival season has only just begun in Montreal. Last weekend, Vans Warped Tour hit Parc Jean-Drapeau and this week, HeavyMTL is back starting on Saturday July 23rd, followed by a three day version of Osheaga on Friday, July 29th. With so many bands playing on all these different stages, it can become a challenge to figure out which ones to see. Don't worry, we're going to make it a lot easier with our own custom lineup suggestion.

Before we begin, if you've never been to a festival before, you'll want to read these tips on what to bring to a music festival. Another note of interest; all three of these festivals allow you to bring your point and shoot camera to take pictures (No SLRs unless you're media) so take as many as you like, just be respectful of your surroundings. Don't forget to share your pictures on UpVenue when you're done!
HeavyMTL Lineup for Saturday July 23
We'd suggest you arrive anywhere between 3pm and 5pm to familiarizing yourselves with the large, multi stage, venue before starting your day. The two main stages, labelled Heavy and Jagermeister, are located next to each other. The Budweiser stage is a bit further off so make sure to account for walking times which will take several minutes due to heavy pedestrian traffic.

HV = Heavy Stage, JM = Jagermeister Stage, BW = Budweiser stage.
3pm-5pm: Suicide Silence, Unearth or Kingdom of Sorrow.
If you're arriving earlier in the afternoon, you'll witness some of the louder, more metal oriented bands. Start off with Suicide Silence (HV), then sample a bit of Unearth (JM) before finishing off with Kingdom of Sorrow (BW).
5pm-6:30pm: Machine Head and Grimskunk
Machine Head (HV) aren't up against anyone so this is an easy choice. It's also a great time to take a quick break and to hydrate. While Trivium (JM) is the more popular band, we'd recommend Montreal locals, Grimskunk (BW) for something very different sounding. Self-described as a "World Punk" band, Grimskunk alternates between languages (English, French, Arabic, Greek and Spanish) and musical styles.
6:30pm - 8:20pm: In Flames and Billy Talent
This slot is also an easy one -- Start with metal-heads In Flames (HV) before switching to punk rockers Billy Talent (JM). Necronomicon (BW) is playing during Billy Talent's set at the Budweiser stage if you prefer a louder band.
8:20pm - 10:45pm: Godsmack and Disturbed
Listen to Godsmack (HV) first, then take a much needed twenty five minute rest before headliners Disturbed take stage. Dissension (BW) and Cryptopsy (BW) are also performing but we can't recommend them over the alternative.
Sunday is the bigger of the two days, keep reading to find out why.
Here are some other articles we think you'll enjoy
Liked this article? Stay informed!
Which band are you the most excited to see at HeavyMTL?