Osheaga 2011 Review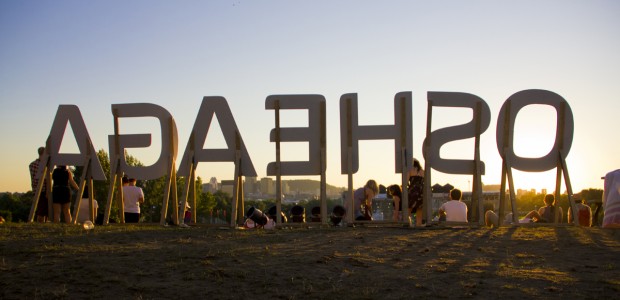 Osheaga has quickly become one of Montreal's biggest music festivals since its inception in 2006. This year, Osheaga added a Friday date to its schedule, bringing the festival up to three days. Unfortunately for the event organizers, this new format may have backfired on them. Keep reading our full review to find out why.
Day 1 - Eminem
Osheaga 2011 began on Friday this year with Kid Cudi, Janelle Monae, and Eminem among the many groups scheduled to perform. Unfortunately, due to illness, Kid Cudi was unable to make the event and was replaced by Kid Koala at an earlier timeslot (there was no notice sent out, therefore, most people probably missed his set). This was a big blow to the lineup; however, Janelle Monáe quickly made fans forget that Cudi wasn't there. Her eccentric performance, crisp melodic vocals, and her ability to get the crowd engaged made hers a performance to remember. Following Janelle was headliner Eminem who single handedly made day one of Osheaga the most successful day in the festival's history by gathering over 38,000+ fans--not quite the mark that U2 hit a few weeks ago with 80,000 at the Hippodrome, but still impressive for the lower capacity Parc Jean Drapeau. As for Eminem's set, it wasn't perfect. There were plenty of sound issues with the mics cutting off on occasion and the volume of the speakers not being loud enough to hear the rapper from a distance, especially with the large crowd singing over him. While the rapper was spot on during his performance, it felt like he squeezed a three-hour concert into 90 minutes. He played all of his hits, but they were abridged with most songs lasting only a minute or two tops--with 26 songs in under 90 minutes, you can do the math. It was a great taster sample, but fewer, more complete songs, would be preferable. On the bright side, Eminem did debut Space Bound for the first time live. The encore was Lose Yourself.
Day 2 - Elvis Costello
The second day was a hit or miss. The Midway State, Hey Rosetta!, and a few other bands performed on the larger stages early on, and then headed over to the War Child booth for stripped down acoustic sets. These sets were a lot more intimate with only a few dozen people sitting down on the grass and enjoying the charity sets. Death From Above 1979 brought in a decent crowd but were unable to keep them interested long enough as people flocked over to the green stage in preparation for Ratatat. The former played at the smaller stage that was jam packed, Ratatat were probably the most successful band of the day. Back at the main stage area, Bright Eyes had a solid set followed by headliner Elvis Costello, who was unable to keep the crowds from leaving. By the mid point of his set, Parc Jean Drapeau was already half empty--this couldn't have pleased the event organizers who had misjudged Costello's draw.
Day 3 - The Flaming Lips
The final day of Osheaga was a lot more interesting than the disastrous second day. Fans moved from stage to stage to see City And Colour, Death Cab For Cutie, and The Tragically Hip. On the smaller stages, Crystal Castles, White Lies, and MSTRKRFT were hits. The main event of the night was The Flaming Lips who played, for perhaps the final time, The Soft Bulletin in its entirety. Before they began, lead singer Wayne Conye came out alone and issued a disclaimer explaining that their show would be filled with seizure-inducing strobe lights. He also added that The Flaming Lips would come back for an encore, and that they would marry a couple on stage. Wayne then left the stage only to return moments later with the rest of the band. Best experienced on acid, their set was complimented with colorful confetti, rainbows, female dancers in school girl attires, psychedelic images, and plenty of colors. Sure enough, once The Soft Bulletin was over, the band came back for an encore and married a couple on stage. Wayne had been quite literal with his intro.
Final Thoughts
With bands like Soundgarden, A Perfect Circle, and Jane's Addiction playing in nearby smaller cities, one has to wonder why Osheaga's lineup didn't have the bigger names fans had expected. Had the festival remained in a two-day format, the lack of crowd-drawing bands wouldn't have been as obvious. Osheaga did have a few stand-out performers, but the inconsistencies in the lineup and the sound problems that plagued certain high-profile groups (namely Eminem), made this year's Osheaga "Okay to miss."
Here are some other articles we think you'll enjoy
Liked this article? Stay informed!
Were you at Osheaga? Which band stood out for you?