Musicians Take To Twitter After Jack Layton's Passing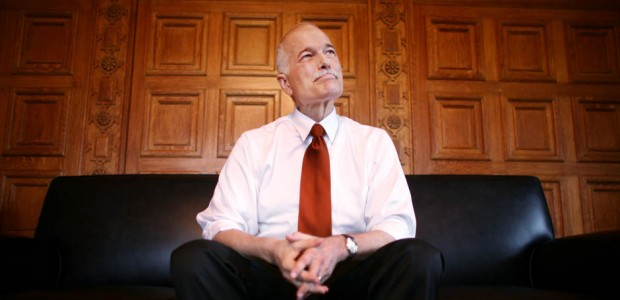 This morning, Canadians woke up to the sad news that Jack Layton, leader of the NDP had lost his battle with cancer. Whether you voted for him or not, one could not deny the impact he had on Canadians across the country. Just from reading his open letter to Canadians which he wrote a few days prior to his passing, it's easy to see how he was able to touch so many people.
Many musicians took to their twitter accounts this morning to remember Mr. Layton and share their thoughts on a life taken too early.
@cancerbats - Cancer Bats
RIP Jack Layton. Canada has truly missed out on what could have been a great Prime Minister.
@barenakedladies - Barenaked Ladies
It was an honor to support Jack Layton over the years. He'll be sadly missed by all he served, and those who knew him. He was inspirational.
@stevenpage - Steven Page
Such horrible and sad news. Horrible. I don't know what else to say. A friend, a leader, and a huge heart. #JackLayton
@sarahslean - Sarah Slean
What to say....Terrible loss for all of us. You will be dearly missed. #RIP Jack Layton
@KevinSelection - Kevin Drew
The mustache of hope has fallen. On behalf of Canada.....thank you for trying so hard. RIP JACK LAYTON--go fight for the angels rights now.
@teganandsara - Tegan and Sara
Read Jack Layton's last letter to Canadians. "Let us be loving, hopeful and optimistic. And we'll change the world." bit.ly/obacXh
@bssmusic - Broken Social Scene
Saddened by the news of Jack Layton, a great leader who had so much more to do for our country. Rest in peace.
@MrRaineMaida - raineanthonymaida (Our Lady Peace)
Jack Laytons dedication and spirit will be missed. a class act! Touching final letter. bit.ly/nNIwHj
@taggart7 - Jeremy Taggart (Our Lady Peace)
RIP Jack Layton. A better fighter was never known. Long may you run.
Jack Layton ended his letter with this statement:
My friends, love is better than anger. Hope is better than fear. Optimism is better than despair. So let us be loving, hopeful and optimistic. And we'll change the world.
Here are some other articles we think you'll enjoy
Liked this article? Stay informed!
Tell Us What You Think