Temple of the Dog Reunion at Pearl Jam Show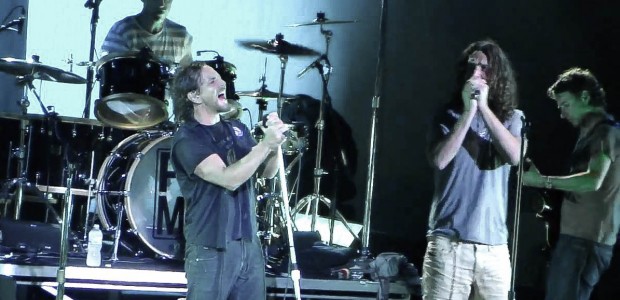 Recently during the kickoff of their 20th Anniversary Tour, Pearl Jam surprised fans by reuniting with Chris Cornell to perform three Temple of the Dog songs: Hunger Strike, Say Hello 2 Heaven, and Reach Down. Thanks to YouTube, you can watch all of those performances below.
Hunger Strike
Say Hello 2 Heaven
Reach Down
The last time Temple of the Dog reunited was back in 2009, but that wasn't the only surprise of the night; a slew of guests joined Pearl Jam on stage. Josh Homme of Queens Of The Stone Age lent his vocals for a performance of In The Moonlight; Julien Casablancas of The Strokes joined Pearl Jam on stage for Not For You; George Harrison's son, Dhani Harrison, played guitar during Love and Trust; and The Swell Season's Glen Hansard, Dan Peters of Mudhoney, and Liam Finn joined the band for a performance of Who You Are.
Here are some other articles we think you'll enjoy
Liked this article? Stay informed!
Should Temple of the Dog reunite for more shows?