Snow Patrol and Ed Sheeran Concert Pictures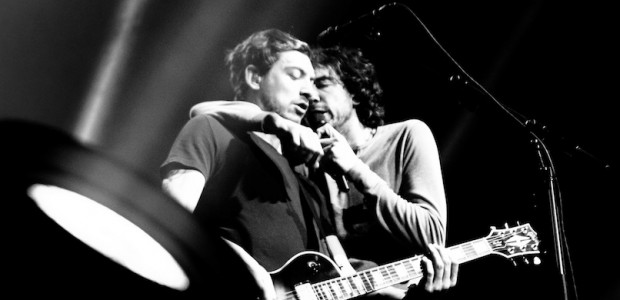 It's no surprise that Snow Patrol loves playing in Montreal, and it's no surprise that that feeling is reciprocated. Playing to a sold out crowd at the Metropolis, the Irish rockers came to town in support of their latest release, Fallen Empires. Joining them on tour was Ed Sheeran from the UK.
Ed Sheeran
Coming to the stage with just his guitar, the crowd erupted in the same way a crowd would welcome the headlining act. Taking full advantage of their support, Ed used those in attendance as his backing choir at times splitting the venue down the middle having each side singing different parts. While his album + (Plus) isn't available in North America until June, this didn't stop his fans from singing along to all of his songs, including A Team--the first single off of the record.
Click on the photo above to see more Ed Sheeran pics
If someone asked what style of music Ed Sheeran plays, it would be difficult to put a label on it; it's just a wonderful combination of various styles. This was evident during his performance of You Need Me, I Don't Need You, which included a short cover of In Da Club by 50 Cent.
While Ed has already conquered the UK, it's safe to say that North America is next. We had the opportunity to chat with Ed prior to the show; stay tuned for our video interview in the next few days.
Snow Patrol
As the lights dimmed before Snow Patrol hit the stage, images were projected on the back of the stage set to a remix of their song, Berlin; those images then revealed the word Montreal, and the crowd went wild. Taking that as their entrance cue, the band made their way to the stage starting things off with Hands Open. While they did mix things up throughout the night by playing songs off of their various albums, they did tend to focus on songs off of Eyes Open and their latest release, Fallen Empires.
Normally reviews tend to focus on the performance of the band on stage, but for this show, credit has to be given to the lighting crew in charge of the visual element of this show as well. Their use of the stage lights created an almost magical feel and added so much to the already powerful show. Midway through their set, opening act Ed Sheeran was welcomed back to the stage to perform the song New York with the band, much to the crowd's approval.
Click on the photo above to see more Snow Patrol pics
Their well known hits Run, and Chasing Cars turned into huge sing-a-longs, and no matter where you were standing in the venue, you couldn't help but see the smiles on fans in attendance.
After returning for the encore, frontman Gary Lightbody said that Montreal is in their top five places to play in the world, and rightfully so based on the response from the sold out Montreal crowd. With almost 17 years under their belts as a band, it's easy to see why they've made it this far; not only do they thrive off of the energy from the fans, they also feed off of each other. To close out the night they played Lifening, Open Your Eyes, and Just Say Yes.
For more information on Snow Patrol or Ed Sheeran, visit their websites:
http://edsheeran.com/
http://www.snowpatrol.com/
And for all of your Quebec concert needs, visit Evenko.ca
Here are some other articles we think you'll enjoy
Liked this article? Stay informed!
Have you seen Snow Patrol or Ed Sheeran live in concert before? Thoughts?