The Dreadnoughts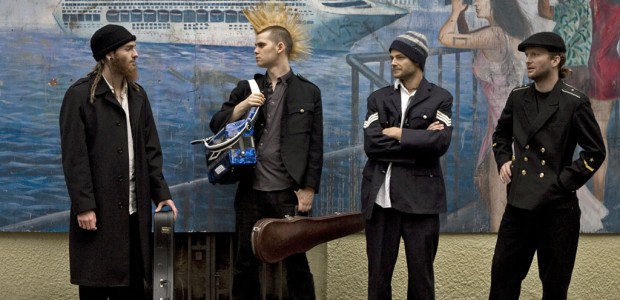 The Dreadnoughts Biography
The Dreadnoughts are a 5-piece folk-punk band from Vancouver. The band combines a wide range of European folk music with modern street punk.
Noticeable influences in their sound include acts such as The Pogues, Gogol Bordello, Goran Bregovic, and Rancid. The band commonly record and perform Sea Shanties, polkas and klezmer songs, and are also strongly influenced by British West Country folk music. Generally they aim to provide an alternative form of folk-punk which is not dominated by Irish and Irish American themes (see Celtic Punk).
Their 2009 release, Victory Square was ranked the 4th-best folk-punk release of 2009 by folk-punk magazine Shite N' Onions. Their previous release, Legends Never Die, was ranked #7 on the magazine's 2008 list. Multiple cross-Canada tours and European tours have helped to contribute to the band's steadily rising profile.
Other acts that have shared the stage with The Dreadnoughts include: Stiff Little Fingers, The Cider Fecks, Swingin' Utters, Hepcat, The Real McKenzies, Goran Bregovic, IAMX, Okean Elzy, Talco, The Creepshow and Mad Sin.
The Dreadnoughts News and articles
The Dreadnoughts Tour Dates