NiN: "Lights In The Sky" free in HD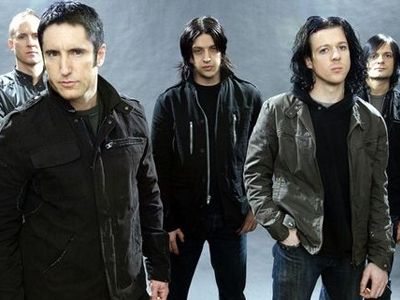 We recently ran a review for Nine Inch Nails' Lights in the Sky concert tour and had nothing but praise for the event. Today, Trent Reznor updated the NiN site with a gift that he had been promising his fans over the past few days. The present turned out to be three fan created HD recordings of the tour from three separate cities: Victoria, Portland and Sacramento. The footage is in pure raw, unedited and un-color corrected footage shot in beautiful HD and totals up to a whopping 405 gigabytes in size. You can kiss that 500GB external drive you just bought goodbye when this finishes downloading in 12 weeks.
We think it's great that Trent is publically approving of this footage and sharing it with his fans. Since he completed his contract obligations with Interscope Records in 2007, Trent has released two albums: Ghosts I-IV and The Slip. The first volume of Ghosts was offered for free as a digital download and so was all of The Slip. In addition, Trent has many times offered Garage Band files at Nin.com for fans to download and remix using their Macs. NiN are not alone to offer their fans freebies; Radiohead pulled a similar stint prior to Nine Inch Nails when they released In Rainbows free a digital release.
We are very pleased with Nine Inch Nails' decision to post these HD concerts for free and for asking their fans to create remixes of them. It's an amazing treat and we hope that other bands take notice and offer the occasional free concert on their site.
Here are some other articles we think you'll enjoy
Liked this article? Stay informed!
Tell Us What You Think