Songs at the 2009 Grammy Awards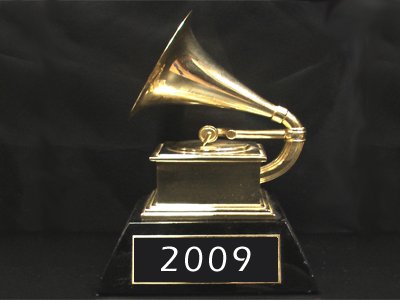 The 2009 annual Grammy Awards are just around the corner. We've taken a look at all the performers and we've compiled a list of each artist and the songs we expect them to play at the Grammies on February 8th.
UPDATE: We've update the list with the performers and what they played.

U2: Get on Your Boots

Al Green, Justin Timberlake, Keith Urban, & Boyz II Men: Let's Stay Together

Coldplay: Lost! & Viva La Vida

Carrie Underwood: Last Name

Kid Rock: Amen, All Summer Long & Rock N Roll Jesus

Taylor Swift & Miley Cyrus: Fifteen

Jennifer Hudson: You Pulled Me Through

Jonas Brothers & Stevie Wonder: Burnin' Up & Superstition

Katy Perry: I Kissed a Girl

Estelle & Kanye West: American Boy

Kenny Chesney: Better as a Memory

M.I.A., T.I., Jay-Z, Lil Wayne, & Kanye West: Paper Planes & Swagga Like Us

Paul McCartney with Dave Grohl: I Saw Her Standing There

Sugarland: Stay

Adele with Jennifer Nettles: Chasing Pavements

Radiohead with University of Southern California Trojan Marching Band: 15 Step

T.I. & Justin Timberlake: Dead and Gone

Duke Fakir, Jamie Foxx, Ne-Yo, and Smokey Robinson: Four Tops medley

Neil Diamond: Sweet Caroline

John Mayer, B.B. King, Buddy Guy, and Keith Urban: Bo Diddley

Lil Wayne & Robin Thicke: Tie My Hands

Robert Plant & Alison Krauss: Rich Woman & Gone, Gone, Gone (Done Moved On)
For a recap of everything of all the highlights of the show, be sure to check out our 2009 Grammy Headlines
Here are some other articles we think you'll enjoy
Liked this article? Stay informed!
Tell Us What You Think