51st Grammy Awards Highlights and Recap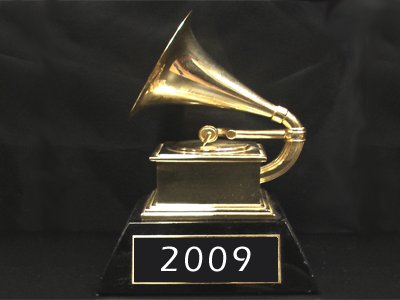 The Grammy Awards used to be an event where musical talent would be awarded for their efforts with a shiny little gramophone. Today, the actual award presentations are secondary to music performances and only a handful of gramophones are actually handed out during the live event, the rest are all given out before the show even begins. Still, it's the biggest event of the year for the music industry and we've got you covered with the highlights of the night.
Whitney's Back!
The Forever gorgeous Whitney Houston came on stage exposing her beautiful legs. I'm assuming her coke-free days are over as she appeared to be really high when she presented the award for best R&B album (won by Jennifer Hudson).
M.I.A is pregrant, Rap Pack gets born

M.I.A postponed her pregnancy (she was due that very day) to perform in one of the biggest hip hop collaborations which included T.I, Jay-Z, Kanye West and Lil Wayne.
Katy Comes Out of a Banana

Katy Perry performed her smash hit "I Kissed a Girl" as she descended from the ceiling in a giant banana. As usual, we were treated to Katy's jug cleavage and the second best legs of the night (Whitney wins here).
Teen Duet Fails to Impress

Miley Cyrus and Taylor Swift performed together for the first time ever. It was pretty clear that Taylor was the better performer of the two as she strummed away on her guitar and sung fairly graceful compared to Hanna Montana.
The Beatle Fighters

Sir Paul McCartney performed "I Saw Her Standing There" with Dave Grohl on drums. Grohl looked like he was having a blast with the former Beatle. We just wish they had picked a better Beatles' song to play.
Estelle's American Boy

Kanye and Estelle also teamed up to play "American Boy". It was really refreshing hearing Kanye's non altered voice for a change.
Blink 182 Reunites

Blink 182 announced that they have officially reunited. Travis Barker, who survived a plane crash a few months ago, was sporting a cast on his arm. No word on a new album.
Green Day's 21 Century Breakdown

Not to be outdone by Blink 182, Green Day presented the award for album of the year (Raising Sand) and announced that they are working on their next album, 21st Century breakdown.
Radiohead Takes a 15 Step March

Radiohead performed 15 step (not "15 steps" as Gwyneth Paltrow introduced) with the USC Marching Band backing them. Thom was a bit off on the vocals here but the performance was still very solid. The USC band did an excellent job.
Rihanna Bruised, Chris Brown Bruises

Rihanna who was scheduled to perform, backed out as she claimed to have bruises on her face from a "car accident". In unrelated news, boyfriend Chris Brown also didn't show up because he was being detained for questioning after assaulting an unnamed woman.
Winners in the General Category
Record of the Year: Please Read The Letter - Robert Plant and Alison Krauss
Album of the Year: Raising Sand - Robert Plant and Alison Krauss
Song of the Year: Viva la Vida - Coldplay
Best New Artist: Adele
And there you have it; you'll know what everyone is talking about at the water cooler at work tomorrow. We unfortunately cannot share the videos as they are copywritten, however if they get posted on the Grammy site we'll definitely include them here.
Here are some other articles we think you'll enjoy
Liked this article? Stay informed!
Tell Us What You Think