OzzFest 2009 Is No More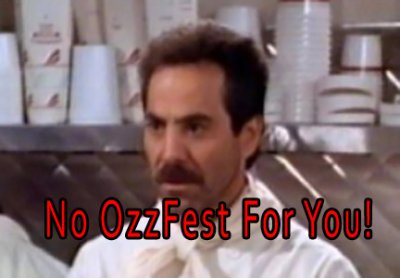 You can't really have an OzzFest without Ozzy Osbourne in the mix. Ozzy agrees as he has officially cancelled this year's event. From the OzzFest website
"The two-time Grammy Award winner has decided that he will not be touring until he has a new album in-stores (currently projected to be Thanksgiving 2009). Thus, OZZY has decided to put his namesake festival OZZFEST on hold this year. In the meantime, if you need an OZZY fix you can watch him with Sharon, Kelly and Jack on the "first family of rock's" return to television. THE OSBOURNES: RELOADED is set to launch this spring on Fox TV ."
It's a bummer as we were looking forward to this year's event; especially considering how Sharon confirmed it to be a travelling festival once again instead of last year's fixed location event. Ah well, we wish the prince of darkness best of luck with his new album. In the meanwhile, I've taken the opportunity to update the 2009 Music Festival page.
Here are some other articles we think you'll enjoy
Liked this article? Stay informed!
Tell Us What You Think