Diamond In The Ruff: Sick Puppies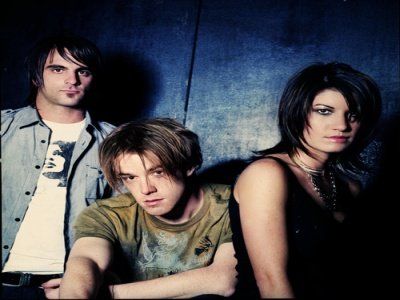 While some of you may have heard of the hard hitting Australian three piece (save their American drummer), not nearly enough people have been made aware of this band. The alternative rockers, now based in Los Angeles, Sick Puppies have already released two albums, Welcome To The Real World and Dressed Up As Life, and are now in the studio working on their third instalment which is guaranteed to rock your face off. The band consists of the charismatic frontman and guitarist Shimon Moore, amazing bassist Emma "the female Flea" Anzai, and their rocking timepiece, drummer Mark Goodwin.

Perhaps you've heard of the Free Hugs Campaign and are among the 38 million plus people who have watched their video All The Same on YouTube? A great start, yes. But if it's the only one of their songs you've heard, spank yourself. You've barely scratched the surface.

Seems that Sick Puppies may finally be getting the recognition they deserve. Rock On The Range, a music festival in Columbus, Ohio, is a relatively new but well-known festival that boasts past artists including Stone Temple Pilots, Disturbed, Staind, Korn, Kid Rock and far more than can be listed here. Sick Puppies will be at Rock On The Range this year. Go see them. You won't be disappointed. Their stage presence will have you buying tickets to as many shows as your wallet will allow…perhaps more.

Capcom, the creators of Street Fighter, have also taken notice and you can now find Sick Puppies' new single Street Fighter (War) on the commercial for the fourth instalment of the game and in the actual game itself. If it doesn't get you off your seat, make sure you haven't been glued. It's a good one. Check out this preview. The song is now available on iTunes.
Make sure to check out their live stream from the studio every Wednesday night at 8pm Eastern Time at www.ustream.tv/channel/sick-puppies
Here are some of their music videos to get you started. Go listen to them.
My World
All The Same
All The Same (Free Hugs Campaign)
Official Site: http://www.sickpuppies.net
MySpace: http://www.myspace.com/sickpuppies
Fan Forum: http://www.sickpuppiesworldcrew.net
Here are some other articles we think you'll enjoy
Liked this article? Stay informed!
Tell Us What You Think