Late Night With The Roots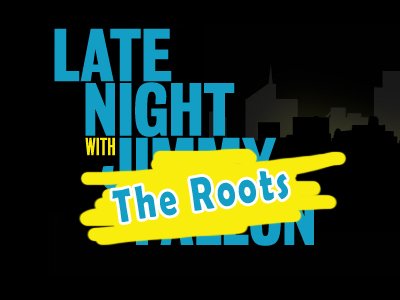 Last night marked the premiere of Late Night with Jimmy Fallon. Sure his monologue was awkward and sporadic but Jimmy is the perfect person to use when marketing to today's younger audience and their 140 characters or less attention span. One striking moment of last night's show was a segment titled "Slow Jam the News" where The Roots complemented Fallon as he, and lead singer, Black Thought (Tariq), began a slow, baby making, melody where the lyrics were replaced to describe the new stimulus package. We're very pleased to see The Roots getting the attention they deserve by being the main band behind Jimmy's new late night show.
For those living under a rock for the past twenty years, The Roots are an alternative hip-hop and R&B band from Philly, Pennsylvania. Their first break came when they were spotted performing outdoors on South Street. They rushed out their first album, Organix, in order to have material for their first tour which was in Europe. Oddly enough, their second album was under the DGC Records label, which at the time, was known for their strong library of grunge artists. Their deal with DGC landed them a spot at Lollapalooza which was very favorable amongst the festival's alternative music fans. The Roots' 1999 album, Things Fall Apart, became their breakout album. The Grammy they earned for the album allowed them to bargain for an extended set list at Woodstock 99.
The band restructured several times as band members came and went. Milestones in their career include backing Jay-Z for his MTV Unplugged performance, being named one of the twenty best live acts in the world by Rolling Stone magazine, getting seven Grammy nominations including a win in 1999 and of course, being the house band for Late Night with Jimmy Fallon. If history repeats itself, and judging by last night's performance, it will, we should expect to see Black Thought, ?uestlove and other members of The Roots involved in many of the show's skits. We wish The Roots (and Fallon) great success with the new show and we are looking forward to the release of their 11th album, How I got away.
Jimmy Fallon and The Roots - Slow Jam the News

The Roots - Rising Up
The Roots - You Got Me

Here are some other articles we think you'll enjoy
Liked this article? Stay informed!
Tell Us What You Think