Green Day's 21st Century Breakdown Review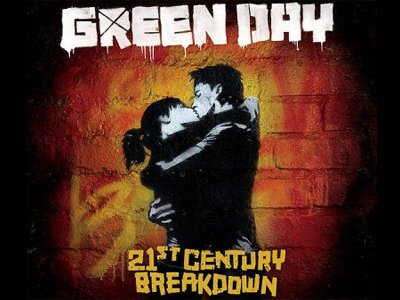 It's been a long time since Green Day's hit rock opera, American Idiot, flooded radio airwaves. Five years and an identity crisis later, Green Day is back with 21st Century Breakdown. This time around, the trio has teamed up with legendary producer Butch Vig who is the mastermind behind Nirvana's Nevermind, Smashing Pumpkins' Siamese Dream and many other highly praised albums. A far cry from their punk roots, the trio continues with the formula that made American Idiot such a huge success.
21st Century Breakdown is divided of three acts: "Heroes and Cons", "Charlatans and Saints" and "Horseshoes and Handgrenades". Each chapter consists of several songs that tell the story of Christian and Gloria, a young couple who struggles with life following the turn of the century. The characters represent different facets of Billie Joe's personality; he has told Rolling Stone that Christian "is deep into his own demons and victimizing himself over that," and Gloria is "this person trying to hold onto this sense of belief, still trying to do good." The tension between the two culminates in the frantic desperation of "Amercian Eulogy", pushing the listener to examine the changing world around them.

Music wise, Green Day returns with a sound that is the same vein as their last album and we're okay with that. There are some filler songs and the occasional repetition crisis "I don't wanna live in a modern world, I don't wanna live in a modern world (repeat 20 times)" but all in all, 21st Century Breakdown is solid successor to American Idiot.
"Know Your Enemy" is the first single off the album and we can already tell the song was made to be an anthem that will be played in stadiums for many years to come. "Restless Heart Syndrome" is the quieter, more mellow song from the bunch. "East Jesus Nowhere" is a drum and guitar rift heavy song that is bound to become a single. "Murder City" has "classic Green Day" written all over it and "American Eulogy" (with Mike opening up on vocals) is the only multipart song on the album. Other favorites here at UpVenue include "21st Century Breakdown", "21 guns" and "Before the Lobotomy".

If you were a fan of American Idiot, pick up 21st Century Breakdown right now. If you didn't care for the album, then why are you reading this review? 21st Century will undoubtedly be a contender for best rock album of the year.
We will be attending the 21st Century Breakdown tour in July so expect many pictures and videos to be posted right here at UpVenue.

Verdict: Buy it, now.
Know Your Enemy
East Jesus Nowhere
21 Guns
Here are some other articles we think you'll enjoy
Liked this article? Stay informed!
Tell Us What You Think