Diamond in the Ruff – Dear and the Headlights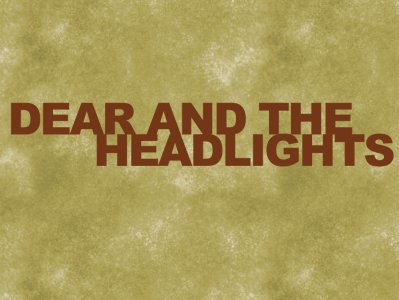 Diamond in the rough - Someone (or something) that has hidden exceptional characteristics and/or future potential, but currently lacks the final touches that would make them (or it) truly stand out from the crowd - Urban Dictionary
I
n this entry of Diamond in the Ruff, we've decided to cover a little gem from Phoenix Arizona known as
Dear and The Headlights
. DATH are a five piece Indie Rock band whose roots go as far back as 2002, though their first album release only came out in 2007.
The Band
Dear and The Headlights started off as a project by Ian Metzger and Joel Marquard. The duo talked about forming a band despite the negative experience Ian had in his previous Christian rock group. Ian finally conceded that DATH was a good idea and shortly thereafter PJ Waxman joined them as a drummer; he later shifted over to guitar when they heard how good he was.
Things started to look bleak though; they were still a drummer and bassist short -- the project almost got cancelled before it even took off. Chuckie Duff took a listen to some of their demos and fell in love with them. He decided to join in as a bassist and promised to find them a drummer, which he did through an ad on Craigslist.
The Music
If you're a fan of more known bands like
Franz Ferdinand
or
The Killers
, you'll probably like Dear and The Headlights, a lot. Their music is in the same vein and we're perfectly content with their offerings thus far. They have two albums that you can check out: 2007's "Small Steps, Heavy Hooves" and last year's "Drunk Like Bible Times".
They're on tour this summer hitting some major North American music festivals like Van's Warped Tour, Summerfest and they're even playing at Bonnaroo this weekend. If you just want to bowl with the guys, then you're also in luck; they will be participating at this year's Van's Warped Tour Bowling Tournament (you'll have to win a bid on eBay, but the proceeds go to charity). We strongly suggest you check them out, you won't regret it.
Official Sites
Run in the Front
Sweet Talk
I'm not Crying, you're not Crying
Daysleeper
Here are some other articles we think you'll enjoy
Liked this article? Stay informed!
Tell Us What You Think