No Doubt About It, Montreal Loves No Doubt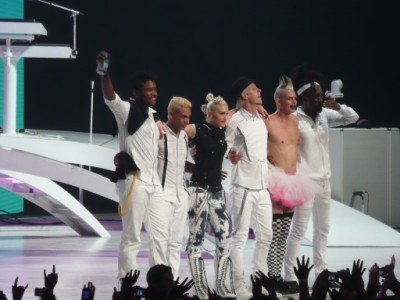 Twelve years ago I went to my first real concert. I remember listening to No Doubt's Tragic Kingdom at the time and thinking "Wow!, this is an awesome band, I'd love to see them live". I went to their show and it sparked my addiction interest in seeing bands performing live. Needless to say, when I found out they would return to Montreal over a decade later, I knew that I had to go see them again.
On June 17th 2009, No Doubt did not dissapoint. They played songs spanning their entire career which included all of their biggest hits.The big screen behind the stage showed their music videos while the stage itself was adorned in white. White seemed to be the theme of the night for the band as all the members were dressed in the color including Gwen's three costume changes.
One of the highlights included the performance of their recent single, "Stand and Deliver". Members from Paramore joined No Doubt on stage including a tutu wearing Adrian, here is the video;


There were so many other memorable moments from the night but the biggest one would have to be the interaction between all the band members. During their performance of different people, the whole band was introduced, here is the video for that:


It was awesome to see that after all these years, all the kids and all the solo projects, No Doubt still seems to be having as much fun as they did when I first saw them twelve years ago.
For more videos visit the UpVenue Youtube page.
Our complete gallery of images from the event can be found here.
Here are some other articles we think you'll enjoy
Liked this article? Stay informed!
Tell Us What You Think