Stevie Wonder Kicks Off Montreal Jazz Fest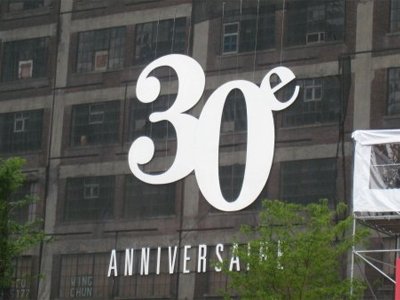 In the past, big names like Ray Charles, Aretha Franklin and Leonard Cohen have kicked off the Montreal International Jazz Fest. This year, to commemorate the 30th anniversary of the event, special guest and musical legend Stevie Wonder was called to scene.
Over 100,000 people were expected to show up for the opening day event, but early numbers indicate that crowds may have double that. UpVenue arrived early to the show and it was packed; streets were filled for several blocks. Rain poured down but that didn't stop Montreal locals and tourists alike; we all patiently waited for Stevie Wonder to grace the stage.
When he came on, Stevie informed everyone that the concert was dedicated to his old friend, Michael Jackson. He asked us to not judge the man and to not believe in the tabloids. Randomly throughout the night; the band would pause and Michael Jackson songs would kick in. Stevie performed many of his own old classics (Higher Ground, Superstition, For Your Love) and even some new songs. Mid way through, daughter Aisha sung an intimate song while her daddy played on his black piano. The usual band member solos and introductions were also performed.
Overall, it was an excellent opening night and a great way to start off the two week event. If you're in the Montreal area, there will be many free shows and over 500 concerts will be performed during the next 10 days.
For more pictures check out the gallery.
Stevie Wonder kicks off Montreal Jazz Fest 2009
Here are some other articles we think you'll enjoy
Liked this article? Stay informed!
Tell Us What You Think