Foo, Zeppelin and QOTSA Members Form New Band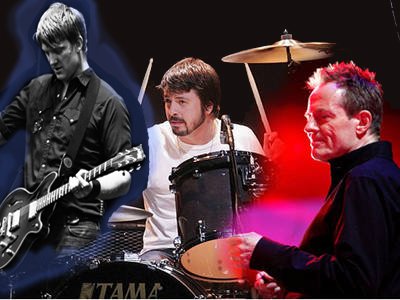 David Grohl (Nirvana, Foo Fighters), John Paul Jones (Led Zeppelin) and Josh Homme (Queens Of The Stone Age) have formed a new band and if the rumors are to be believed, an album is coming out real soon. The supergroup was first announced by Dave Grohl in passing back in 2005:
"The next project that I'm trying to initiate involves me on drums, Josh Homme on guitar, and John Paul Jones playing bass. That's the next album. That wouldn't suck."

No one took him seriously, it was too un-fucking-believable to imagine. Well, it turns out Grohl wasn't kidding. Talking with Antiquiet, Josh's wife, Brody Dalle said the following:
"I'm not at liberty to talk about it… but I think [the project] is pretty fucking amazing. Just beats and sounds like you've never heard before".

Furthermore, Chris Cornell's guitar tech is claiming to have heard some songs but isn't commenting on them. [Editor's note: Cornell on vocals would have been amazing.]

While all three bands are enjoying their downtime, earlier this year Foo Fighters' drummer Taylor Hawkins had mentioned that the band would be recording some new stuff during the summer. Either plans for the new Foo record have been delayed, or this new supergroup's album isn't as close to fruition as some people are claiming. We will wait and see how this plays out, but either way, this supergroup is real and an album will eventually be released.
UPDATE: As it turns out, the Foo Fighters' new album will be a "Greatest Hits" album and is scheduled for release in the fall of 2009. David Grohl has confirmed this much today when the Foo Fighters performed in front of the White House for a special one-time July 4th event.
Here are some other articles we think you'll enjoy
Liked this article? Stay informed!
Tell Us What You Think