Montreal's Forecast: Dead Weather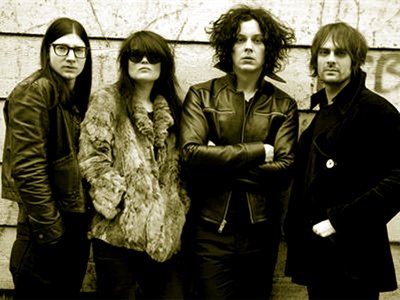 We've followed The Dead Weather very closely since their inception this past March. Last week, their debut album Horehound hit stores and we considered it a very solid first offering. When we heard that Jack White and his crew would be in town, we knew that we couldn't miss the concert. We set our expectations to "High" and moseyed on down to the Olympia Theater to see the group in action.
Opening for The Dead Weather was a New Jersey trio known as the Screaming Females. Lead singer Marissa Paternoster is a fairly small woman but boy can she scream her lungs out; she's really good at shredding away with her guitar too. Marissa's eccentric behavior is reminiscent of a young Kurt Cobain -- now if only Kurt wore a dress on stage.. oh wait. They played for about an hour and despite the crowd's anticipation to see the headliners, they were really into the Screaming Females' performance.
The main event began expectedly with "60 Feet Tall" which is one of my personal favorites from Horehound. Alison Mosshart took stage and hugged her fellow band mates before gracing us with her vibrant and powerful voice. The crowd roared viciously when she uttered the lyric "we go down to Texas, up to Montreal"; which for once, was a shout out that was actually part of the original song -- we felt so special.
While Jack White was the obvious draw for The Dead Weather, he laid in the shadows with his drum kit for the first half of the show while Alison Mosshart proceeded to steal the audience's attention. It was hard not to stare at Alison as she danced provocatively around the stage and even climbed up onto the wall's railing on several occasions. We almost forgot that Jack White was even there until he came out front to sing a cover of "Them Days" to which he was greeted with the second loudest roar of the night. With White on drums and Alison on the mic, adding Fertita and LJ, on guitar and bass respectively, to the mix was like topping your hot chocolate with whipped cream and chocolate sprinkles.
Despite their "supergroup" status, we can't neglect the obvious; the Dead Weather is still in their infancy and their song repertoire isn't exactly extensive. Horehound only consists of 11 songs (10 of which they played) and they had to pad their performance with an extra three covers from The West Coast Pop Art Experimental Band, Van Morrison and Pentagram. The shorter set list was to be expected and if we really wanted to nitpick and find another flaw with the show, it would be having Jack White drum and sing during "Treat Me Like Your Mother". Don't get me wrong, it's an impressive feat and I can't grasp how he's able to do both at the same time; however, the drums were overpowering the vocals (something that didn't seem to hinder "I Cut Like a Buffalo").
It's very hard to believe that The Dead Weather only recently formed as the members connected very naturally with one another. Being veterans and having played in bands like Queens of the Stone Age, The Raconteurs, The Kills and The White Stripes didn't hurt. The group is incredibly talented and seeing them perform live only helps accentuate the fact. With the concert behind us, we eagerly await future recordings from the band and longer live sets. In the meanwhile, we recommend that you to check them out if they're touring in a town near you.
Setlist
1) 60 Feet Tall
2) Bone House
3) Hang You from the Heavens
4) You Just Can't Win [Cover - Van Morrison]
5) So Far from Your Weapon
6) I Cut Like a Buffalo
7) A Child of a Few Hours Is Burning to Death [Cover - West Coast Pop Art Experimental Band]
8) Rocking Horse
9) No Hassle Night
10) Will There Be Enough Water?
Encore
11) Forever My Queen [Cover - Pentagram]
12) Treat Me Like Your Mother
13) New Pony
Check out our exclusive gallery of the event.
Official Site: TheDeadWeather.com
Event Promoter: GEG
Here are some other articles we think you'll enjoy
Liked this article? Stay informed!
Tell Us What You Think