Michael Jackson's "This Is It" Coming To Theaters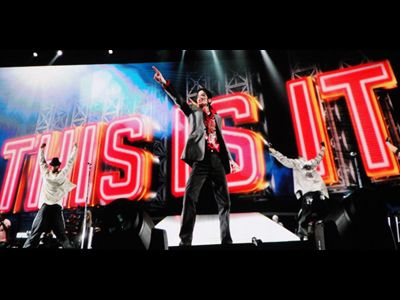 While the tour may never happen, Micheal Jackson was hard at work rehearsing for a comeback during his final days. Over one hundred hours of footage was captured in high definition with crystal clear audio. This fall, a small chunk of the concert preparations will be making its way to a theatre near you with some 3D scenes added to boot.
The majority of the footage was shot at the Staple Center while Michael was setting up to perform over 50 concert dates in London. Part of the proceeds will help Jackson's children and estate (and we're hoping charities) while the rest will be pocketed by Sony Pictures.
Kevin Ortega, Director of This Is It, had this to say:
"The world will see what our team was so fortunate to experience, which was the full commitment, passion and creativity that Michael put into this project. He was the architect of This Is It, and we were his builders. The footage that was captured from the early stages of the production to our technical rehearsals at the STAPLES Center in L.A. will show Michael as he truly was, creatively involved with every aspect of the production, from the staging and choreography, to the music, lighting, production design and conception of the original short films and video backdrops. It will also show Michael as one of the greatest entertainers in the world and one of the industry's most creative minds. This Is It was Michael's last theatrical work and although it was still a work in progress, I think the footage will show that the process was something that Michael deeply enjoyed and that it was clear that he was on his way to another theatrical triumph."

Admittedly it will be very odd seeing a concert with no fans yelling their lungs out, no occasional puff of smoke and no bottle throwing. Then again, I think drive-ins will be playing it too. You can be part of history and watch "This Is It" in theatres on October 30th.
Here are some other articles we think you'll enjoy
Liked this article? Stay informed!
Tell Us What You Think