Burning Borders Interview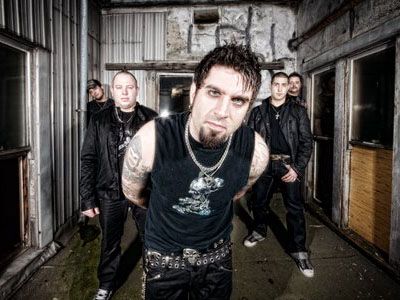 Burning Borders is an up and coming band from Vancouver that is ready to make a name for themselves. From first listen, you can definitely tell that they know the true meaning of rock. Their latest album "Yesterday's Gone" is set to be released on September 1st and we here at UpVenue were thrilled to be able to interview the boys.
We talked about everything from being signed to Thorny Bleeder records, to writing processes and even Dan Akroyd's wine and Vodka.
UpVenue (UV): For the people out there that don't know who Burning Borders are, introduce yourselves.

Burning Borders (BB): Brian Reed, singer. Justin Griffiths and Mike Geurcio, Guitars. Kevin Catroppa, bass. Levi Catroppa, drums.

UV: Pick a song from the upcoming album that would best represent who you are as a band.

BB: Yesterday's Gone would definitely be the best one to describe us. It's got big melody, lots of guitar riffs, and also a couple mellow verses in there. Which really show our dynamic as a band.

UV: How nervous are you guys for your upcoming record?

BB: Not really nervous. We're very excited to see where this album is going to take us.

UV: What was it like working with Tim Neuhaus?

BB: Great experience! Tim is a GREAT producer. It's a very calm experience and relaxing way to record. He has awesome ideas. His wife, Katrina, is also absolutely fantastic as well.

UV: What's the writing process like? Who comes up with the ideas first?

BB: Brian will come up with the ideas on guitar, he will bring it to the band and they will each create their own part to go along with it. Basically the lyrics, melody, and basic idea for the song is written by Brian.

UV: How is the new record different from other ones you've released?

BB: The first record was kind of all over the place. We had softer songs to heavier. And this album is more consistent. It follows one general genre and has a more consistent feel. Basically the first album was more for ourselves to do whatever we wanted. Whereas, this album has a lot more planning, marketing, and structure all around.

UV: What is the inspiration behind the title of the album?

BB: Yesterday's Gone – Everything that happens in your life that is negative and so many people hold on to that. This album is saying, it's time to move on, don't hold on to the past.
Yesterday's Gone… It's time to move on.

UV: Which song off your new album do you think will get the best crowd response?
BB: For the live show: Cold. Because it has a good groove, it's got singing, it's got screaming, and it's got lots of sing along parts to get the crowd involved.
For the radio: Beauty School Drop Out. Because it's more 'user friendly', it's got big melody and guitar riffs, with an awesome solo. If you're a musician, you're going to enjoy the guitar solo. If you're a girl you're going to enjoy the lyrics. If you're just a general fan of music, you're going to enjoy the melody and feel of the song.

UV: Do you guys prefer performing acoustically, or plugged in?

BB: It varies depending on the type of show and the crowd. We all enjoy the big show feel, but sometimes it's nice to change the feel of a heavy song into a mellow acoustic song.

UV: How do you go about deciding which songs get released as singles?

BB: We work with our Producer and our label to help decide. The song will have a big melody and appeal to the widest audience.

UV: What is it like being a part of Thorny Bleeder Records?

BB: It's awesome. Brian is great to work with along with Jonny and Greg from Art of Dying. They are really helping to push our careers along.

UV: Youtube is a great thing, and while researching you guys for this interview, I found some videos of you guys doing covers of Bush and Alice and Chains... I was wondering, what would you say was your favourite cover done to date?

BB: We enjoy the Bush cover song a lot! But the best one would have to be STP- Interstate Love Song.

UV: Say you have a choice to remake Abba's 'Dancing Queen' or AC/DC's 'Black in Black'. Which do you choose and why?

BB: ABBA'S DANCING QUEEN!!! It's a great song! There's so many different angles that you could take with that song. You could make it big and heavy or you could mellow it down and play around with different aspects of the song such as vocals.

UV: What would be the bands musical guilty pleasure? Come on... be honest, there must be some very random song that you guys crank up on the bus or in the studio.

BB: Dancing Queen, believe it or not, would actually have to be one of those songs. Brian and Kevin will crank it right up on the car stereo outside the rehearsal space and sing along.

UV: What do you like the most about being on the road?

BB: Playing shows in new areas. It's tiring, but it's definitely a great reward after writing and recording. It's a great experience.

UV: Getting back to youtube videos, I was watching one of your in studio ones and it seems like you guys have a thing for Vodka and Red Wine. Did you know that Dan Akroyd (GhostBusters) has his own line of wine and Vodka? Seriously, check it out... http://crystalheadvodka.com/ and http://www.danaykroydwines.com/. So, my question is, would you ever try wine/vodka from Dan Akroyd? Would you be more likely to try it because his name is associated with it?

BB: We would be more likely to try it because it's alcoholic firstly. But secondly, I think definitely because of the name. It's a "I HAVE TO TRY THIS" kind of drink I would think.
Brian just tried the Crystal Skull Vodka for the first time on Friday and loved it. Thought it had a really nice taste to it. Not a big fan of vodka, but would definitely drink it.

UV: What should people expect when going to see a Burning Borders live show?

BB: Lots of energy. We're trying to put on a bigger show on our part. Lots of guitar drops, lots of screaming, tons of energy. While pairing it with mellow songs to create dynamics. Unfortunately, we don't have the pyrotechnics yet…

UV: Any plans for a tour?

BB: This month, we're making it over to the Island for a weekend show with other TBR Label Acts. In October we will be touring Western Canada. The interior of BC, Alberta, and will probably go back over to the Island. The more radio stations that catch on to our single, the more towns we'll make a point of visiting. But for sure in 2010 we will be planning something much larger tour-wise.

UV: Final thoughts?

BB: We hope everyone enjoys this record. We sure enjoyed making it.
Disposable - Acoustic
Sleep
To find more info about Burning Borders, check out their Official Site , their MySpace , and their Twitter .
Burning Borders is: Brian Reed (Singer), Justin Griffiths (Guitars) ,Mike Geurcio (Guitars), Kevin Catroppa (Bass) and Levi Catroppa (Drums)
Here are some other articles we think you'll enjoy
Liked this article? Stay informed!
Tell Us What You Think