TV Heart Attack Interview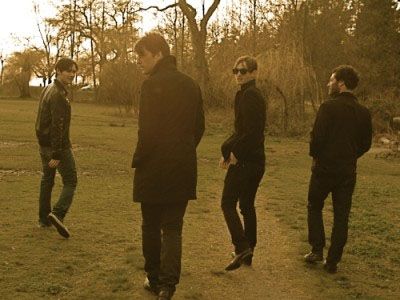 ran·dom
adj.
proceeding, made, or occurring without definite aim, reason, or pattern

en·ter·tain·ing
adj.
Agreeably diverting; amusing

These are two words that can best decribe UpVenue's interview with TV Heart Attack. Going into this interview we had no idea what to expect from this up and coming band from Vancouver, needless to say we were highly amused.

TV Heart Attack is one of the many shining stars from Vancouver based Thorny Bleeder Records, they've played at V-Fest, shared the stage with the Von Bondies and now with their upcoming CD "Lost in the Sway", TV Heart Attack will be a force to be reckoned with.
UpVenue (UV) Tell us a little bit about TV Heart Attack.

Art- A gang of four from Vancouver. Formed under duress, and established through necessity. Jason's brainchild, Art's interpretation. A Rock and roll motorcycle with asidecar, speeding on the wrong side of the road at night, with a broken headlight, and a madman at the helm. Sorry, what was the question?

Jason- I guess I'm the madman?

UV: How did you guys come up with the band name?
Art- We pulled it outta a hat, I think.
Jason- It's how we act to get what we want from one another.

UV: How did all of you meet?

Art- Two of us met through an online dating service (but I won't tell which two...) and it kinda snowballed from there...(and by 'snowballed' I mean it gained momentum), They say the best relationships are rooted in Love.

Jason- how do any of us meet really?

UV: If you could describe TV Heart Attack in 5 words, what would they be?

Jason- finis vitae sed non amoris

UV: If you had to describe your sound for someone who has never heard any of your songs, how would you do it?

Art- That familiar sound of nostalgia in collusion with danger.

Jason- Have you ever seen the movie Reckless starring Daryl Hannah?

UV: When writing the new album, how many songs did you actual write? Do you have plans on releasing some of the extra ones as B-Sides?

Art- No B-sides, just the A's. We originally planned on releasing it in two parts, but Jason is constantly writing and we may have to record more than a new 6 song record.

Jason- It's hard to say. I do write all the time but only the songs that really stick with me make the cut.

UV: You recently filmed a music video for A O. Can you tell us a little bit about that?
Art- The video turned out AMAZING. All I can say is- WOW. Panavision shot it with their new Genesis cameras, and there is an entire production team currently sifting through the rubble, cutting together what will be the 'final cut'. One by one, members of the band are seduced, and killed by programmed robots, which are played by supermodels in skimpy outfits. A heist gone wrong, basically a 'James Bond' flick meets 'Mission Impossible'. We all fell in love with a new girl every day on set.

Jason- I think Art pretty much summed it up. Top notch.

UV: How do you guys go about choosing which songs get to be released as singles?

Art- When you're not on a major label, it's usually a bit different. Some songs stand out from the moment you write them/perform them/record them. It's something you try not to think too hard about, or spend too much time arguing about... and yes we argue! (most healthy couples do...)

Jason- I sit back and wait to see the reactions from a cross section of friends. It becomes pretty obvious pretty quick. pretty.

UV: You guys are getting some great promotion hundreds of miles above the earth. Virgin America will be running a feature about TV Heart Attack on the airlines Sky radio. Thats a pretty big deal. How did that come about?

Art- We have friends in high places.

Jason- Sometimes good things happen to bad people...

UV: When you do fly, are you the type of flyers that pass out, or do you try to keep entertained with the in flight entertainment?

Jason- I like to look out the window and pretend that I'm flying like an eagle and nothing can hurt me and the police will never find the body under my stairs... Or sometimes I'll take a nap.

Art- I love to start flying at the airport bar. Usually that turns into an excellent anxietyfree cruise. Movies, music and napping all happen at some point. But a long flight is usually an excellent opportunity to read a book. Our bass player (Ryan) LOVES trash mags, and is the only person I know who has a subscription to US Weekly/People Magazine.

UV: You're also getting some great promotion because you're being featured on EA's NHL 09'. What was your reaction when you found out that you would be a part of that?

Art-Awesome. Anytime you get to be a part of something like that is a win win situation (Jason- It made me want to get in the game %110 and give it my all.

UV: Are you guys gamers? If so, what are your favourite games?

Art- Ryan is the only gamer in the band. He's plays NHL 09, and occasionally I join in on the festivities, but stress the fact that I lost interest in gaming after Goldeneye for N64. True story

Jason- I like Brick Breaker on my Blackberry. Does that count? And I love EA's NHL
09'!!!

UV: Considering its a hockey game, what's your favourite team? Do you follow hockey?

Art- Jason is the only one who doesn't like hockey. Dom, Ry and I are avid Canuck fans, and have actually bled blue. Vancouver Canuck blue.

Jason- Not true Art! I really enjoyed the Cleveland Barons 1976-1978 before they merged with the Minnesota North Stars in 79'. Jack Evans was a solid coach but the dual team captain approach of Jim Neilson and Bob Stewart seemed to divide loyalties. I think they were really at their peak in 77'.

UV: You guys were a part of a few big name festivals. How was that experience for all of you? Do you prefer them over regular club shows?

Art- When we played Virgin Festival, it was like 'somebody pinch me!' That being said, it was the only day that month it poured rain in Vancouver! Everybody was drenched by the day's end, including most of our gear. That, ironically was the only show no one got electrocuted! (long story)

Jason- I prefer small intimate clubs that are loud and gritty with little or no stage. I like to be face to face with the crowd.

UV: Did you guys get a chance to see the other bands perform?

Art- not too often, only because its difficult to find the time to get out on the weekends. I just saw Peter Bjorn and John the other night, which was an awesome show!

Jason- I don't like live music.

UV: What festivals would you love to play in the future?

Art- I would love to go to NYC and play CMJ. But as for the Holy Grail of festivals, I'd say are the ones out in Europe, which would be a dream come true!

Jason- I like the ones with clean washrooms.

UV: If you could ask your band a question, what would it be?

Art- Jason, what is the funniest youtube video of all time?

UV: See the answer to the above question and answer it (ha!.. see what I did there)

Jason- Dr. Steve Brules? I answered that question with a question (ha!.. see what I did there)

UV: If you could only listen to one CD for the rest of your life, which one would it be?

Jason- Roxy Music, Avalon

Art- Ziggy Stardust, David Bowie

Ryan- Cuffy, The Best Of...

UV: Which song do you think gets the best crowd response at a live show? When you guys were writing it, did you ever think that you would get that reaction?

Art- Our first song of the set 'Boy Next Door'. But for a while 'Hypnotic Eyes' our first single off our first cd seemed to be the 'floor burner'.

Jason- I like to use positive visualizations when I write songs so I always know in my minds eye what songs are going to make people the most attentive... but it never works.

UV: Why should people buy your CD's or catch a live show?

Art- Because regret is such a horrible feeling.

Jason- You might make a friend.
TV Heart Attack - Nowhere Fast
TV Heart Attack - Wolves (acoustic)
TV Heart Attack - Bang Bang Bang
We know that after reading this interview you want to know more about TV Heart Attack, so check them out on their Official Site, their Myspace, and on Twitter.
TV Heart attack is Jason Corbett (Vocals/Guitar), Art Guest (Guitar/Vocals/keys), Cuffy McDonell (Bass/vocals) and Dominic Coletta-Drums
Here are some other articles we think you'll enjoy
Liked this article? Stay informed!
Tell Us What You Think