Quick 5: Five Rock Tracks You Should Listen To Now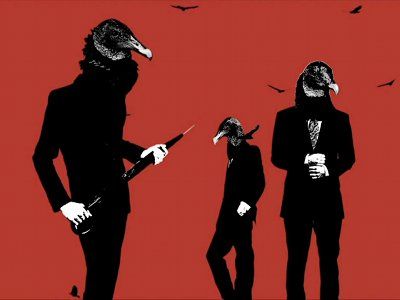 We're introducing a new feature today called the "Quick 5". We know that It's really hard to keep track of all the great new songs that are coming out and it's very easy for a few gems to slip under your radar. Fret not, we've got you covered with our Quick 5 selection: Five awesome and fresh tracks for your listening pleasure.
Radiohead - These are My Twisted Words
While there was speculation that a new EP from Radiohead would debut today, the band instead released a free digital download song titled "These Are my Twisted Words". Good stuff, now where's that rumored EP?
Wolfmother - New Moon Rising
Cosmic Egg, Wolfmother's second album, is scheduled for release on October 9th. The australian band is sporting an all new lineup and we're pleased with what we've heard so far. Here's New Moon Rising.
Them Crooked Vultures - Nobody Loves Me And Neither Do I
We're going to cheat here for a second and introduce you to a 15 second clip from Them Crooked Vultures' first song: "Nobody Loves Me and Neither Do I". The full song debuted in Chicago last week and was incredible. The supergroup posted this teaser, with no additional info, on their official site.
Pete Yorn & Scarlett Johansson - Relator
Yeah that's right Scarlett Johansson has an album coming out with Pete Yorn. Their first single was just released on the net and surprisingly, it's actually not bad at all -- in fact it's pretty good and catchy. We can't embed this one, so you'll have to click on the image below to hear it.
Weezer - (If You're Wondering If I Want You To) I Want You To
Weezer has showcased their first single from their seventh (already?) studio album. It's the same fun loving rock you'd expect from the band. They've come a long way since they opened up for Keanu Reeves' band in 1992.
Here are some other articles we think you'll enjoy
Liked this article? Stay informed!
Tell Us What You Think