The Hills Are Alive When Heidi Montag Screeches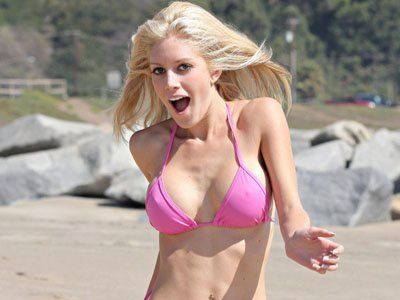 Okay, we get it Hollywood, people dig thin blondes but, really, who decided that giving Heidi Montag a microphone was a good idea? This past week, the Miss Universe pageant was held and during the opening sequence, Playboy covergirl, Heidi Montag performed her new song "Body Language". Of course, by performed, we mean that a pre-recorded AutoTune track played and Heidi attempted to lipsync in front of a live audience.

Unfortunately for Heidi she was too busy trying to remember her moves to keep up with the rest of the song. The result was a horribly choreographed mess with Heidi struggling to keep her mouth open when she was supposed to be singing.

To add to the ordeal, Heidi has now gone on record and claims that the entire event was live and that it was the best experience of her life. We're not going to argue that opening for the Miss Universe pageant is better than playing in The Hills, but who is she trying to fool here? Watching Heidi Montag attempt to lipsync makes us want to punch a nun while she's enjoying her breakfast.

To fully appreciate the clip below, set your volume to "mute".
Here are some other articles we think you'll enjoy
Liked this article? Stay informed!
Tell Us What You Think