The Killers Bring a Bit of Vegas to Montreal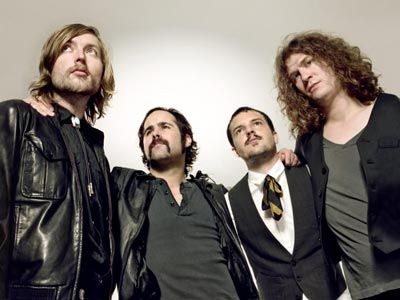 Tonight, The Killers brought their summer 2009 tour to Montreal's Bell Center. Supporting the Las Vegas rock act, and sporting an all new lineup, was Wolfmother. You can't go wrong with either band and Montreal music lovers were in for a treat.
Wolfmother
Wolfmother didn't waste any time during their short 45 minute setlist which included an extended version of their hit Woman. They followed up Woman with New Moon Rising from their upcoming album, Cosmic Egg. During moon, there was a rare quiet moment where rhythm guitarist, Aiden Nemeth, did an ever so soft solo while singer, Andrew Stockdale, took a short breather.
Drummer, Dave Atkins, absolutely destroyed his drumkit as they finished off their night with my personal favorite, Joker and The Thief. Wolfmother's entire set was very energetic, very loud and we're quite happy with Wolfmother's new formation; which still maintains that 70s rock band feel.
The Killers
To combat homesickness, The Killers recreated the look and feel of Old Vegas at the Bell Center; Palm trees, Lightbulb displays and neon aplenty. The band began with the more pop rock sound found in Human and continued with songs off their newer albums -- they did an excellent job of getting the crowd pumped up.
Roughly five songs into their set, singer Brandan Flowers, riled up the crowd by narrating a story which began in Boston. Unfortunately, nobody advised The Killers of Montreal's hatred for Boston (hockey rivalries are grand) and he was treated with loud boos. Luckily, attention spans are short here in Montreal and fans cheered hard when his story progressed into our city. He kept the crowd going by performing Somebody Told Me.
Smile Like You Mean It began with a combination of light piano and violin but the pace gradually changed into a faster and louder rock performance. The Montreal crowd didn't hide their love for Hot Fuss as every song The Killers played from their debut record generated thunderous roars.
They finished off their initial setlist with All These Things That I've Done. As some concert newbies began to leave and the rest chanted for more, the band came back for their encore which consisted of This Is Your Life, Jenny Was a Friend of Mine and of course, When You Were Young.
Overall, The Killers delivered a solid performance but if you've ever seen their incredible Abbey Road performance, you can't help but feel a slight (emphasis on slight) bit disappointed; The intimacy of that show is nowhere to be found here, this was a pure rock show, plain and simple.
Links
The Abbey Road Performance
Here are some other articles we think you'll enjoy
Liked this article? Stay informed!
Tell Us What You Think