Pearl Jam's Backspacer Album Review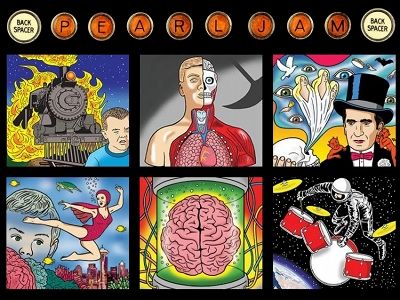 It's been a solid three years since we last heard some new tunes from the Seattle band and we were very excited to listen to their latest effort, Backspacer. Broken free from the shackles of their old record label and back with "Vs" and "Yield" producer Brendan O'Brien, this is the first record released independently by Pearl Jam. The album will be sold via their website, in stores for two days exclusively at Target and followed by most other retailers on Tuesday.
Carpe diem
Eddie Vedder is noticeably more chirpy and less bitter this time around with songs tackling issues relating to change and recovery. Backspacer is not all smiles and giggles; there are some some traces of angst though there's definitely signs of hope in there. While Vedder has told Rolling Stones that his more upbeat nature was inspired by Obama and his 2008 presidential run; much like that campaign, we can't help but feel a sense of over promising yet under delivering.
The Music
The album starts off with a bang but fizzles out after just a few tracks. That's not to say that the rest of Backspacer is terrible but rather, it's not as memorable as the first half. Just Breathe is the camp fire song from the bunch. Johnny Guitar is a lighthearted Black with its "why him? why not me" tone. The Fixer is the first hit and one of the better of the bunch. Got Some is wild and fast and Amongst the Waves depicts Vedder's mood change (lyric: "I have a soul that has been saved, I can see the light"). Despite containing 11 songs, Backspacer has a very short runtime clocking in at just a bit over half an hour (roughly 37 minutes).
Getting The Word Out

As far as promotion goes, Pearl Jam is using more modern means like online social networking sites and Twitter scavenger hunts like the "find the orange vinyl" one we mentioned in our news tweet the other day. We're still waiting for them to announce more tour dates. As of now, they've appeared on more late night shows than they have at real music venues.
Final Thoughts
There's no such thing as a "bad" Pearl Jam album just ones that aren't as great and Backspacer falls somewhere in the middle of the pact. Perhaps we expected a bit more from the Seattle band after a 3 year hiatus or maybe their reissue of Ten earlier this year was a reminder as to how great the band was in their prime. If you're on the fence about buying Backspacer, we recommend that you at least purchase the first three or four tracks from the iTunes store.
Here are some other articles we think you'll enjoy
Liked this article? Stay informed!
Tell Us What You Think