Marilyn Manson Brings Music, Swine Flu to Montreal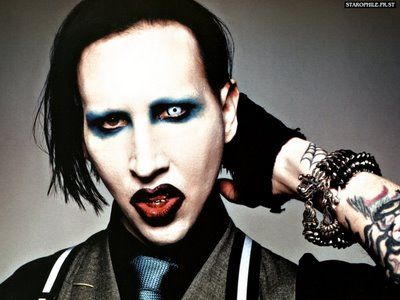 Earlier today, Marilyn Manson confirmed that he was diagnosed with the swine flu; he then showed up at the Bell Center and performed live in front of many of his fans. He was in good spirits prior to the show joking around that "[..]fucking a pig is how this disease was obtained. However, the doctor said, my past choices in women have in no way contributed to me acquiring this mysterious sickness". We were there, not during his relations with Evan Rachael Wood, but rather, when he played his two hour setlist in Montreal.
Die Mannequin
Opening for Manson was the Toronto "sleaze" band, Die Mannequin. Anticipating a bottling and a furious crowd, lead singer Care Failure started off by mentioning that Manson personally chose the band and pleaded for them to not throw any objects on stage as Manson wouldn't come out any sooner. Despite Die Mannequin's best efforts to get the crowd into it, the usually wild Montreal fans were fairly stiff during the five song set. It wasn't until the last song that signs of life were shown as the charismatic Care Failure played every instrument that was on stage but was eventually pulled off it (all show) by her fellow band-mate.
Marilyn Manson
Manson came out to a now lively Montreal crowd. After his opener, he confirmed that he had the swine flu, but that he had taken his drugs and alcohol so he'd be fine. The crowd assumed that he was joking but the crackling in his voice was an obvious sign that the rocker was indeed ill. The event was filled with Manson's typical crude humor as he poked fun at his flu, at America and joked that he was bleeding and he'd also give everyone AIDS. After a few songs, he wore a Canadian flag that was tossed at him and the fans cheered, he then wore an American flag and the crowd booed. He twisted both together and the crowds continued to express their hatred. Manson then informed everyone that he hated flags and wore the Canadian one again which was now greeted unfavorably.
The Music
The setlist consisted mainly of newer songs with some classics like "Fight Song", "Disposable Teens" and "Dope Show" thrown in at key moments. The most memorable of the songs would have to be the live rendition of "Sweet Dreams" complete with an extended guitar and drum finale. Surprisingly absent from the show were some old favorites like Coma White, Tourniquet and his Tainted Love cover. Between each song, Manson would take a short break to recoup, which is understandable, but it did hurt the flow of the show.
Conclusion
The event was what you'd expect from a Marylin Manson event; It was theatrical, it was loud, it was grotesque though it was also toned down to 8 from 11. The biggest gripe would have to be the measly one song encore. Really, only one song? We'll let this one slide as it was "Beautiful People" and Marilyn was sick, but we expect more next time around. We're not sure how many more shows Marilyn Manson will be able to pull off given the singer's condition but we wish him a speedy recovery as he finishes touring North America and ventures into Europe.
Here are some other articles we think you'll enjoy
Liked this article? Stay informed!
Tell Us What You Think