TAT Interview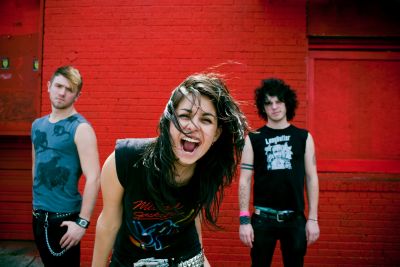 If you combined Joan Jett with Green Day, you would get a pretty good idea of what to expect from the punk trio TAT, but once you hear what they have to offer, you'll see that TAT are very much their own band. They've just completed their second year of being on the Warped tour and are currently working on a follow up to Soho Lights. They have also toured with punk icons such as NOFX, The Offspring and Pennywise.
UpVenue had the pleasure of interviewing bassist Nick Kent and we talked about everything from his photography, touring experiences and what to expect from TAT in the future.
UpVenue - Introduce yourselves to the people that may not have heard about you guys.

Nick – We're TAT, from London Town, England. Sent by the Queen to make your head explode.

UV - If you could pick three of your songs which best represent you as a band, which
would they be?

Nick – I'd say 'Pessmist', 'Here's to You' and 'Stay Up' for me. They seem to cover all the bases.

UV - What's your favourite song to play live? Reason why its your fave? Is it fun to play, crowd reaction etc.

Nick – 'Here's to you' is one I love to play live, the harmonies are fun and I love playing that Bassline, but a far as the crowd goes, Road to Paradise is and awesome time as soon as Tatiana starts playing that intro.

UV - What is the most common thing you hear from fans after shows?

Nick – "Why are you guys from?" even though Tatiana has just said London 20 f'ing times on stage. Come on guys.

UV - What's the craziest thing to happen to you guys on stage? Any head on collisions, or maybe a crazed fan jumping on stage?

Nick – luckily, I've never hit Tatiana in the head with my headstock, but I'm pretty sure it will happen one day. I think sometimes about what I'd do if that would happen. The crowd would fucking hate me…..Hitting a girl onstage in front of a couple of thousand people. Shameful.

UV - Coolest venue you've ever played?

Nick – We played this awesome Arena in Poland a few years ago where Hitler used to give speeches, it was 10,000 cap and huge. It was our first show in Poland and it was very impressive. The name of it escapes me but it took the biscuit.

UV - How awesome was it to be on tour with Alice Cooper?

Nick – He's the man. Such a nice guy and his crew and band were so cool to us. We actually opened for him in Milwaukee, and I'd watched Waynes World 10 million times when I was younger and that was the coolest place to open for Alice – in 'The Good Land'.

UV - Were you guys fans beforehand?

Nick – Hell Yeah, I grew up listening to hard rock like Metallica, G&R, Alice Cooper etc, so being able to be part of a 'big rock show' was a dream for me. He had Eric Singer of 'Kiss' playing drums for him as well, so I was pretty wet to tell you the truth.

UV - What was the crowd reaction to TAT on that tour?

Nick – to be honest, going into it we were pretty scared, because it was going to be an older crowd, more into their classic rock, so we wondered how well a 'chick fronted punk band' would go down but we were really pleased. Tatiana reminded all the more mature people in the crowd of Joan Jet, so they loved her, and everyone had brought their kids, so there was a younger crowd there aswell which was more our usual demographic so by the end of the shows everyone was on their feet having it large!

UV - If you could tour with any other band, which band would it be and why?

Nick – I'd tour with Aerosmith or Metallica, it may seem like it sometimes but they aren't gonna be around forever, so I need to tick those boxes on my life 'to do' list.

UV - What are the plans for the follow up to 'Soho Lights'?

Nick – It's going to be very different, be in for a surprise.

UV - Are you planning on releasing any other singles off of Soho Lights? If so, which songs?

Nick - 'I don't want to (Love You)' is out now, so you can request that on the radio whenever you want.

UV - Whats your favourite city to play in? Which city holds the best memories for you?

Nick - Denver is always a great place to play for us. The crowds are great there and it feels like we're doing a home town show whenever we go there.

UV - Nick, I heard that your hobby is photography and that you like taking pics of live
bands. Do you get the opportunity to take any pics during the warped tour?

Nick – Very little actually because were always so busy. The only bands I shot were the Scary Kids Scaring Kids and the Millionaires, because I had a couple of friends performing with them. I wish I could have got a lot more.

UV - Do you have your pictures up anywhere on the web, or is it more of a personal
gratification thing?

Nick - I have a few up at www.myspace.com/outthebluephotography , but i haven't put anything up for a long time. There's a lot up there from the early touring days with NOFX, Bouncing Souls and The Gimmes. One day I'll start putting more effort into it when I get some spare time. With any creative profession, if you aim to be at the top of your game, you need to put everything into it, so at the moment and for the foreseeable future the music has to take priorty. You can't spread yourself to thin.

UV - If you wanted to put them out there for all to see, you should ask Jake to make you a website to display your work since I read that he does a little web designing?

Nick – I would ask him to build me a site but he's to damn expensive!

UV - If you guys have a day off between touring, where would we most likely find you guys?

Nick – I love going to the movies on a day off as long as I have no other work to do. I actually went to see Transformers 2 by my self during Warped Tour, which I actually really enjoyed. People have a problem going to the movies on their own for some reason, when you're sitting in a dark room watching a movie anyway, and this way no one steals your popcorn.

UV - So now that Warped Tour is over, whats next for TAT?

Nick – We're getting to work on our second album, its going to be nice to knuckle down and get to work. We've spent so long touring 'Soho Lights', even before it was out, so wiping the slate clean and starting something new is awesome for us. Very refreshing.
TAT - Road To Paradise

TAT - Champagne, Cocaine and Strawberries

TAT - I Don't Wanna Love You

TAT is Tatiana DeMaria (vocals/guitar), Nick Kent (bass/vocals) and Jake Reed (drums/vocals)
For more information about TAT check out their MySpace or their official Twitter. If that isn't enough for you, each of the band members are also on Twitter, Tatiana, Nick and Jake
Here are some other articles we think you'll enjoy
Liked this article? Stay informed!
Tell Us What You Think