The Mars Volta Lands at Metropolis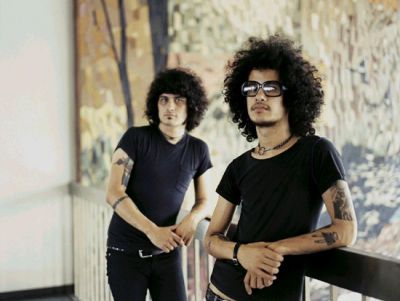 Packed into Metropolis, a well known concert venue in Montreal, an excited crowd awaited the arrival of a band known for their great improvisational live shows, The Mars Volta.

For those who don't know about them, The Mars Volta was formed by guitarist Omar Rodríguez-López and vocalist Cedric Bixler-Zavala who originally hailed from well-known band At The Drive-In. Since breaking away and forming their own sound, they've won a Grammy award and were named "Best Prog-Rock Band" by Rolling Stone magazine in 2008.

From the moment the experimental rock group hit the stage with song, Son Et Lumiere, the energy was infectious; it permeated the crowd as both performer and audience fed off one another's energy. By the time they'd performed Inertiatic ESP and Goliath, they were holding the crowd in the palm of their hand and continued to do so for the remainder of their set.

Some of the highlights included songs Cotopaxi, Viscera Eyes, Wax Simulacra and Ilyena. A special bonus caught the crowd by surprise when Eunuch Provocateur, from debut EP Tremulant, was dedicated to The Mars Volta fans who've been with them for their entire journey.

From their energetic albeit eccentric performance, their captivating background images, the Zildjian gong that loomed behind the drumkit and their ability to rock the crowd from the pit to the back of the venue, The Mars Volta puts on a show that's not to be missed whether you're a fan or just curious.
Check out their Official Site and MySpace Page for more.
Click here to enter our Photo Gallery for The Mars Volta.
Here are some other articles we think you'll enjoy
Liked this article? Stay informed!
Tell Us What You Think