Silversun Pickups Warms Montreal Crowd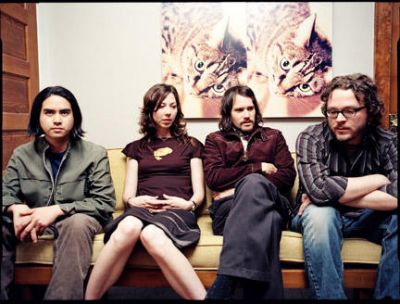 Last night, in Montreal, a crowd formed outside of venue, Metropolis, for three bands who are becoming better known and gaining fans every day: An Horse, Cage The Elephant, and Silversun Pickups.
An Horse
The evening started with indie Australian twosome, An Horse. There's something to be said about a duo who possess the ability to be so expressive and create such a big sound. Perhaps three is a crowd in this case.
Cage The Elephant
Cage The Elephant took the stage next; what they brought, I never saw coming. Frontman Matt Shultz's frantic movements and slurred singing raised a few eyebrows in the venue though he forged on, completing the set with more energy than I've ever seen. This band has produced a variety of hard hitting tracks, though it seemed the band – and crowd – only perked up when Ain't No Rest For The Wicked began; it's a shame it was one of the last songs in the set. The final surprise of the evening came when Matt Shultz climbed onto a towering speaker nearby, leaping head-first into the crowd.
Silversun Pickups
It was no surprise that the crowd cheered fiercely when Silversun Pickups hit the stage. Their set was composed of a good mix from albums Carnavas and Swoon, although Kissing Families, from EP Pikul, was tucked in for good measure. Future Foe Scenarios, Catch and Release, The Royal We, and Well Thought Out Twinkles were among the songs played to a receptive crowd.

Highlights from the show came from hit songs, Panic Switch and Lazy Eye, cleverly placed back-to-back. As Panic Switch came to an end, the music slowed, transitioning into the subsequent song and for a moment, I anticipated a quiet, stripped version of Lazy Eye; I could not have been more wrong because after the short musical breath, we were entitled to the heaviest version of Lazy Eye one could ever ask for. At this point, a moshpit emerged out of nowhere.

One of my favorite moments came in the form of a verse in It's Nice To Know You Work Alone, from newest album, Swoon. Something about the way frontman, Brian Aubert, sang the following lyrics, made it the most honest, vulnerable part of the show, in my opinion:
Disembody the move action
With water marks on a pillowcase
With all the nerves turned on, on
Overriding the obsession
To take it all and be on my way
Dragging the lead along, along

Sit back and breathe
It's nice to know you work alone

When Silversun Pickups left the stage, the crowd clapped, stomped, and cheered for their return; had they come without an encore prepared, the audience's reaction alone would have brought them back onstage. The encore setlist began with Substitution as their fans perked up, hoping for more.

Although Silversun Pickups put on a good show, I have to say that I was disappointed. There is something, emotion or intimacy perhaps, that gets lost in translation from their CD to their live performance. Although there were glimpses of this raw emotion at times, they were too few and far between to carry me through the entire set.

Silversun Pickups have a few more upcoming tour dates in Canada and the United States. Details can be found here.
Here are some other articles we think you'll enjoy
Liked this article? Stay informed!
Tell Us What You Think