Evanescence Returns With Secret Show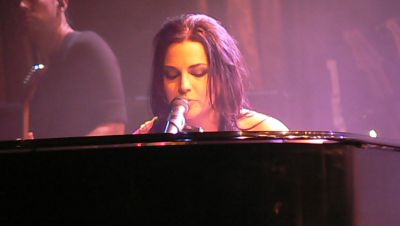 A few stories above Manhattan, more than the Yankees' win was being celebrated on November 4. Fans from near and far filed into the Grand Ballroom at the Manhattan Center in New York City, eager to see Grammy winning artists, Evanescence. Two years ago, in Rhode Island, Evanescence performed what many thought would be their last show; so it was to the surprise and delight of many when the band recently announced a secret show to be held in New York City.

First to take the stage was South African trio, Civil Twilight, fellow label mates from Wind-up Records. Their solid, energetic performance was the perfect introduction to what would prove to be a spectacular night. See this band live, you won't regret it.

As fans waited for Evanescence to take the stage, an excitement began to fill the air. When drummer, Will Hunt took the stage first with a solo, we knew we were in for a show. When the first wisps of Amy Lee's voice penetrated her audience's long deprived eardrums, the buzz of anticipation rose steadily, peaking when the band took the stage for their first song, Going Under. It is rare that this song, off album Fallen, is used as a concert opener; this only added to the rarity of this concert experience, the show starting with a bang. The band, including guest guitarist James Black of Finger Eleven, commanded the stage like they'd never left.

The song Missing, off album Fallen, had fans craning their necks to watch singer, Amy Lee's magical performance, the black Baldwin piano a mere extension of her body, a single spotlight the physical manifestation of the beauty that was being experienced.

Despite the splendor that comes from these intimate piano performances, this band knows how to rock. Hard. One of the best surprises was seeing Terry Balsamo perform solos for songs Imaginary and My Immortal; it was the whipped cream atop one's favorite sundae; that velvety extra layer of goodness.

During Bring Me To Life, from album Fallen, Amy screamed the lyrics and they were screamed right back at her as though, at that moment, we all needed a morsel of that brand of revival that she was so adamant about.

Good Enough, from album The Open Door, was dedicated to Lee's husband, Josh, whose birthday was the same night. This was probably my favorite part of the entire show. She paired up with a cellist (the one who appeared on Lyrics and Legends, I believe) that only enhanced the beauty of this song, the vulnerability she shared. Upon singing the line, "And I'm still waiting for the rain to fall," I could feel my arms prickle from the chills I was getting; I am confident that I was not the only one. At the end, she sang out, "Am I good enough?" and the immediate response from a crowd member was, "Yes, you are!" He may have been the one screaming but the sentiment was wholeheartedly shared.

The encore included My Immortal and Your Star, bringing the nineteen song setlist to a close. The crowd sang along to these anthems, knowing that the show was coming to an end and needing to make the most of the last few minutes with the band they may not see again for a while.

The ever gracious Amy Lee thanked Evanescence fans for being so amazing for so long. While no new material was performed, it was mentioned that they will be back next year.

Though the term, evanescence, is defined as ephemeral, I doubt this band will be fading from sight any time soon.

Evanescence will be performing at the Maquinaria Festival in Brazil in a few days. If New York was their warm up show, look out, Brazil, it's about to get really hot.
Click on the photo below to enter our photo gallery for the show:
Setlist
1) Intro
2) Going Under
3) Weight Of The World
4) Sweet Sacrifice
5) The Only One
6) Cloud Nine
7) Haunted
8) Missing
9) Lithium
10) Good Enough
11) Whisper
12) Call Me When You're Sober
13) Imaginary
14) Bring Me To Life
15) All That I'm Living For
16) Taking Over Me
17) Lacrymosa
Encore:
18) My Immortal
19) Your Star
Here are some other articles we think you'll enjoy
Liked this article? Stay informed!
Tell Us What You Think