Them Crooked Review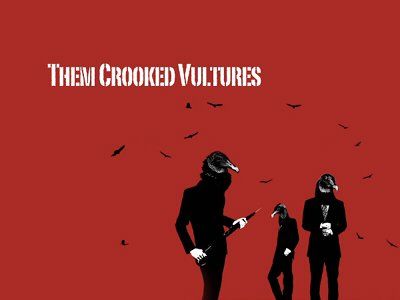 A couple of years ago, David Grohl (Nirvana, Foo Fighters) joked about the possibility of joining forces with Josh Homme (Queens of the Stone Age) and John Paul Jones (Led Zeppelin). Earlier in 2009, Josh Homme's spouse, Brody Dalle confirmed that the trio had gotten together and that their sound was amazing. Their pet project was later giving a name, Them Crooked Vultures and for months they teased us via the wonders of social networking sites. Fake sound samples and songs were "leaked" on the internet including the very popular "Paved Death" which the YouTube uploader claimed was their first song. Since then, the band released actual sound bites for Nobody Loves Me and Neither do I as well as Scumbag Blues. After months of secrecy, the can of worms has finally been opened and their debut self-titled album, Them Crooked Vultures has hit stores today.
The Good
Josh Homme is the voice behind the mic while he shreds away with his guitar. John Paul Jones predictably graces us with the bass notes while David Grohl returns to his throne behind the drum kit. There are thirteen songs in total (fourteen if you buy it via iTunes) and the whole package feels like a rock purist's dream come true. The album begins rather softly with the Nobody Loves me and Neither do I intro. Grohl kicks things off with a simple drum pattern before Homme and Jones chime in with vocals and bass. The first track is very reminiscent of Homme and Grohl's first collaboration together, Songs for the Deaf; there are definitely hints of QOTSA to be found here. Two minutes and forty three seconds in is where the heavy rock sound everyone has been anticipating kicks in. It's a glorious rock ballad that must be cranked to 11 to be fully enjoyed.

The album pays homage to classic rock banks like Led Zeppelin and Cream (see Scumbag Blues) while still being modern. The trio doesn't rely on simple repetitive beats; the rifts, the drum patterns and the bass lines all progress nicely throughout the record. Because of this progression, It's highly suggested that you listen to the album in one sitting and not just sample the intro of each track; there are plenty of excellent moments scattered throughout the record to be discovered.
The Bad
TCV is definitely not for everyone. There is no hint of pop here and the sound doesn't scream radio friendly; it's really a raw rock album for rock fans. Don't expect this album to be as approachable as say The Colour and The Shape or Nevermind, it takes a bit of getting used to. There are a couple of sleepers moments but luckily they are few and far apart.
The Verdict
If you're a rock fan, this album should be a treat for your ears. TCV's debut is by far the best rock album of the year and we expect the supergroup to walk away with several Grammies in January. The band may be new but all three members are rock veterans and each one shines throughout the record. If TCV is coming to a town near you, we strongly suggest that you wait in line early, tickets have been going fast. Are you still reading? Go buy the album.
Update: Dave Grohl has confirmed that a second, much louder, album is in the works. Let the frothing begin.
Them Crooked Vultures Promo piece

New Fang

Elephants (Live from Reading)
Here are some other articles we think you'll enjoy
Liked this article? Stay informed!
Tell Us What You Think