Brand New Never Gets Old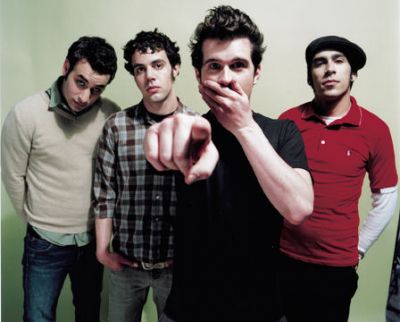 Fans from across Montreal gathered at the elegant Olympia Theatre, eager to see Long Island natives, Brand New, and were met with a show that surpassed all expectations. They were preceded by punk band, Crime in Stereo, and post-hardcore artists, Glassjaw.
Crime In Stereo

Their twenty minute set was a bit too fast and frantic; frontman, Kristian Hallbert, looked ready to start moshing himself. It was difficult to connect with their music though some of their slower tunes caught my attention.
Glassjaw

The post-hardcore veterans were engaging from frontman Daryl Palumbo's first ear-shattering scream. Their set was fast, loud, and catchy, their music slightly reminiscent of Rage Against The Machine. Probably the most interesting, albeit slightly puzzling, thing about this band is the fact that they performed in a circle, feeding off each other's energy, playing off one another, not acknowledging the crowd. In fact, we only ever saw the bassist's – Manuel (Manny) Carrero's – back. Daryl, however, interacted with the crowd, even trying to convince the audience that it was Manny's 22nd, 24th, 25th, 32nd, and 36th birthday; apparently this band ages fast. Regardless, they put on a great show.
Brand New

Anticipation continued to build as the crowd waited for Brand New to take the stage; chants of "Brand New! Brand New!" filled the air. When the band finally hit the stage, thunderous clapping began as they eased into Welcome To Bangkok, off album The Devil And God Are Raging Inside Me.

Fan favorites seemed to come in the form of songs Degausser; Okay I Believe You, But My Tommy Gun Don't; Sic Transit Gloria…Glory Fades; and You Stole.

Another highlight came during the song, Sowing Season (Yeah), where the crowd sang along - sometimes drowning out frontman Jesse Lacey – screaming, "I'm not your friend, I'm not your lover!"

One of my favorite moments occurred during song, Limousine, where Jesse Lacey stood alone with a guitar, his lyrics being sung back to him from an eager crowd. The words, "Well I love you so much, but do me a favor baby, don't reply. 'Cause I can dish it out, but I can't take it" sung over and over though never repetitive; each time seemed to take on a different meaning. We all seemed to get a little lost in the moment, the spell only wearing off when the full band came in.

When the first few notes of Jesus Christ – probably their most widely-known song – were played, I wondered if this band would be able to reproduce the intimacy and vulnerability of this song in a live setting; I needn't have worried. They gave the song new life and depth as they, and hundreds of other voices, cried out.

Fans took a front seat in this show; and what a show it was. There were moments where I got lost in the music, times where I felt my skin prickle with goosebumps. One thing is for sure: Montreal loves Brand New.
Jesus Christ
Limousine
Here are some other articles we think you'll enjoy
Liked this article? Stay informed!
Tell Us What You Think