Paper Tongues Interview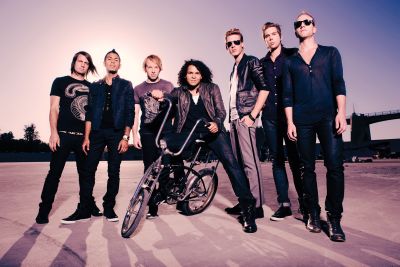 Optimism and hope aren't words typically associated with rock music; cue North Carolina natives, Paper Tongues. These guys manage to infuse positive messages into their lyrics while putting on a great live show. To call this refreshing would be an understatement. Formed in 2007, this seven-piece band is making waves; having just wrapped up a tour with Flyleaf, they will soon be joining Switchfoot's Hello Hurricane tour. Their energetic stage presence; fusion of rock, hip-hop and a variety of genres; and their upbeat attitude make for a rare musical treat.
I chatted with Paper Tongues' lead singer, Aswan North, about their upcoming album, tour, pranks, and their proudest moments thus far.
____________________________________________________________________________________
UpVenue (UV): How are you doing?

Paper Tongues (PT): I'm doing really well. Thanks for giving us a call, I really appreciate it.

UV: No problem. I saw you guys in Montreal about a week ago and I was blown away. You guys have a great stage presence; I'm glad to hear from you too. So where are you tonight?

PT: Tonight we're in Atlanta, Georgia, at Atlantic Station.

UV: Are you performing tonight?

PT: Yeah. This is the last night on tour with Flyleaf [November 23].

UV: How has the tour been?

PT: It's been absolutely amazing; we couldn't have asked for a better tour. You know, Flyleaf always takes us into that place of freedom and passion that hopefully you get when you're listening to our music, so it's been the coolest tour ever.

UV: Usually on the last day of tour, people play pranks. Do you guys have any tricks up your sleeves?

PT: Yeah, absolutely. We know that Flyleaf's going to bust out tons of pranks; they're known for it, they're really good at it, they're very sneaky. As if they didn't do enough pranks to us live! They made us think our trailer was on fire and all of us were freaking out because there was smoke coming from the ceiling.
UV: Really?
PT: It was just insane and actually it was a dude up there with a smoke bomb – actually it was a stink bomb – and it was just making tons of smoke and it smelled so bad, we didn't know what was going on. You know, our band's a lot about optimism anyway, that's what a lot of our music is about, and our shows, so when they pull this stuff we love it and we come around and try to do as many pranks as we can do to them.

UV: That's awesome. I'm sure that makes for a lot of fun on tour. You never know what's going to happen.

PT: Absolutely.

UV: So you're going to be touring with Switchfoot next, right?

PT: Next month is just going to be a series of radio shows. It's going to be some promotional events that we're very grateful to be doing and we're just going to do different cities, different dates with Switchfoot, some dates with Muse; there's a few other bands that we're waiting on confirmation and then in January, we're on a tour with Switchfoot and that is really exciting.

UV: So does that mean you're coming back to Montreal soon?

PT: That is our hope, that is our dream. Montreal was one of the best shows we had, we feel. And the guys, overall, from Flyleaf were so good to us and they always allowed us to go out and be who we are onstage - and there was never any weird vibe - so we were able to experience the full atmosphere of Montreal. The crowd was amazing. We couldn't believe how well they accepted us and we had so many people after the show who were willing to talk to us and said that they really connected to our message of hope and optimism that they heard in the music. They could relate to where we were coming from and it was really cool.
UV: I remember reading that you've said you believe that people have to change from the inside out. Is that the change you're speaking about?

PT: Absolutely. I don't believe you can just say, 'oh I'm going to start something new and everyone's going to get down with it,' because we're not trying to be the new kids on the block per se, not the band, but the actual slang of it. We're not trying to say we're doing something new that you've never heard, we're going to pull out some new tricks you've never seen. We're actually saying we actually come from your neighborhood, we're somewhere on your campus, we go to your Wal-Mart, and we want to connect. And if there is going to be change, we want to be a part of it with you, and we do believe that chance comes from the inside out and that's what our message has always been about.
We care about the live experience. We believe that when people come to our show, they're going to get caught up in what we get caught up in - if we do our job right - and if they receive that message of hope, if they get touched the same way Bob Marley and the Wailers brought it, then we believe we've done our job and we're contributing to the change that's already occurring. There's a lot of change happening in music right now that we want to be a part of and that's optimism, that's hope; and if you're listening to our music when we're onstage and having that experience, you'll realize that there's a piece of each one of us in the band in every song because we all come from different backgrounds, different walks of life, and every lyric that we have, every chord, there's a piece of us all, so…we absolutely mean that. You're 100% correct.

UV: You mentioned that there's a piece of each of you in your music and you can hear it in the actual music itself because you fuse a lot of genres; do you do that on purpose? Or is it just the result of your different backgrounds?

PT: You know, when the songs are written, there's no doubt that when you're writing it, you're coming as naked and vulnerable as possible and hoping it connects with people; and I hope that when I'm done, I, as an artist, feel satisfied as well. And the music took that on, where you walk away with something and it's all of us. How did that happen? It's almost miraculous to an extent, every time a song is completed and finished production, and all of a sudden it goes to the mixing and you're on the editing floor and you go to master it and you're like, 'holy crap, it's us.' And that's funny because all of us had this different walk of life before we met each other and it's like, 'how did this happen?' And it's pretty miraculous to us.

UV: And where did the name, Paper Tongues, come from?

PT: Well, Paper Tongues comes from, honestly, not knowing what band name we wanted and it's probably a typical story what you might hear from some bands having trouble picking a cool name, an awesome name, and they want it to have meaning and so we just wrote down a bunch of names. Those names got thrown into a hat, and Devin pretty much instigated that whole moment. The two words that came out of the hat that seemed to go together the best were "paper" and "tongues." That's pretty much how the saga began and it has taken on an awesome meaning to everybody but yeah, we put some words onto paper, threw it into a hat, and those were the ones we connected with and we ran with it. And it just adds to our optimism. We believe that it can work out and hopefully mean something to somebody else, not just us.

UV: And you were involved in something called "Improv Music Experience"? What is that, exactly, and how did you get involved?

PT: That's actually a typo from being interviewed for the bio but I made the comment that it was an improv music experience that was occurring in a place called Uptown Charlotte. Honestly, when you're young and you just want something to do and you've got an instrument in your hand and you've got a song you want to sing, you kind of just find a place. If you're driven to it and you're hungry and you're thirsty…that's what that whole moment became, where musicians found one another and we just started making it official. It turned into eight different musicians who would show up any given night - and they wouldn't all come on the same night - but they would just show up and we would just improv. We would just play and that's where I really met Devin, that's where I really met Cody, that's where I really met Jordan, it's where I met Joey. It's nuts how we somehow all trickled there in Charlotte and it's funny because not everybody is from Charlotte; only Jordan and Joey are from Charlotte.

UV: Really?

PT: Yeah. I'm from North Carolina, but I'm not from Charlotte, and everybody else is from different cities and we just trickled in, just playing music and it just became apparent after a while that there was something powerful, a connection that happened. We were very fortunate to find one another in that pack of musicians to become a band.

UV: Wow. At the show, you played a song you said you guys were working on; your album is coming out next year, right? Do you have an album title yet?

PT: We do not have a title yet. We have some phrases that we're throwing out there. It's a very important moment for us all so once again, we're in a creative place with that. So there's a lot of contribution going on to what the album's going to be called. It's a very emotional and vulnerable place – in a good way – so we're waiting and holding back but no doubt about it, February 2010 the album's coming out and more than anything, we're excited about the album because we believe that people are going to hear a record that absolutely shows you, in sound, what it's like when you come to a live experience at our show. We couldn't be more grateful to the producers who contributed on that record and helped us capture what we do live. It seems like it would have been impossible and especially when we're a band big like Linkin Park, or Wilco, or The Roots, who have seven members; all these big bands. We have big shoes to fill and we're attempting something that would seem impossible because these guys, in our eyes, in our minds, and in our imaginations, are living legends. When you're that size of a band like those guys and they've had all that success and we're unknown, we're just blown away that the producers captured on this record - coming out in February - what we do live passionately. That's what we care about more than anything, is what occurs live.

UV: If that song – I can't remember if you mentioned the name – is any indication of what the album will be like, I think a lot of people will connect with your album.

PT: Thank you so much, I really appreciate that. The song you're referring to is called Soul and what it is is that it's not necessarily new but there are so many parts that are new and we're really working on getting it in sync and just delivering it because that song itself is a massive work [...] and a lot of our heart is in it, a lot of our emotions are on our sleeves on that song so you can kind of see, more so musically than anything, and we're grateful to have lyrics that we hope will inspire people like Bob Marley and the Wailers did, however musically, we found a connection that is very vulnerable to us and really got us to sweat our butts off and just try to get it tight. And obviously, that's what you're going to find, we believe, in the overall album that comes out in February. You're going to find a lot of blood and sweat in that album.

UV: If you had to describe your sound in five words, what would they be?

PT: Okay. Umm…that's not one of the words. (laughs) In five words, it would definitely be hope, it would definitely be love, it would be grace, it would be peace, and it would be passion.

UV: We need all five of those.

PT: We strive for it all the time as a band, you know, in the lyrics of the song we have a lot of good inspiration to look at back in history, some really huge bands that had a lot to stand for, to live for. We could have wrote a lot of our jokey, dorky songs, and recorded them as a first record but the more that you listen to history and you see what people were going through in their time and you look at the moment we're in and all the change that's occurred in this country [United States] and all the issues that have not been resolved right now. Well, here comes our record and there has to be optimism, there has to be hope, there has to be belief, there has to be an expression that people can connect with and not just one of our dorky songs that we could've pulled off and tried to get away with a record. We really want to give people something to sleep about, to go home at peace about, and love again, so that's what we believe will happen when people pick it up in February.

UV: What's been your proudest moment so far as Paper Tongues?

PT: Oh man….

UV: I'm putting you on the spot!

PT: A lot of miraculous things happened - when a lot of people said it's not going to work, it's impossible - I honestly believe making it, you know, on the road, and being able to hit night after night any city they take us to and come off that stage and we absolutely still have our friendship. We're still those quirky, weird, dorky musicians that love one another and love what we do and who cannot wait to take this sound to people. That's what I would say is my proudest moment. We've still been able to maintain our passion and love for this music.

UV: What's one thing people don't know about you guys?

PT: One thing that I would say people don't know about us is that in our heart of hearts, as much as we know this is what we're supposed to be doing, we're going to do this for the rest of our lives, play music, be Paper Tongues, and share optimism and hope with people, is that we don't feel worthy of the call but because we're human like anybody else, we're taking it. We're going for it.

UV: Where can people get your music? If someone wants to buy your EP, for example…?

PT: They can find both of the singles that are out right now on Modern Rock stations across the country and satellite on XM and Sirius, and Itunes; they can find Ride to California there for $0.99, they can find Trinity there for $0.99, they can connect to our website, finding out where we are, they can get one at the show. And then pretty soon, here comes February and they're going to find it in all regular distribution channels, our full-length record.

UV: And what's been your favorite thing about touring?

PT: Oh, my favorite thing has been playing the shows. There's no doubt about it when you're writing music like this and you believe it's for the people and connects with people, when you're standing there, it means that much more. I mean, yes, you get to go to these beautiful cities, you get to experience some awesome new friendships and make connections and there is this atmosphere that occurs. But you get onstage every night, singing this message of optimism and hope, doing what we do, and what we love best which is a passionate, live set, this is what we're about. This is what fulfills me the most.

UV: You guys are an inspiration.

PT: Thank you so much.

UV: I have to say, I can't wait for this album to come out. That's all the questions I have for you but it's been great talking to you and I can wait to see you guys again in Montreal when you come with Switchfoot, I will be there.

PT: You're too kind. […] There's no doubt, we wanted to be back in Montreal like…yesterday.
____________________________________________________________________________________
Ride To California (acoustic)
Randy Jackson Talks Paper Tongues
Trinity (not official video)

Look out for their debut full-length album coming out February 2010. Paper Tongues is Aswan North, Devin Forbes, Cody Blackler, Joey Signa, Clayton Simon, Jordan Hardee, and Danny Santell. For more Paper Tongues, check out their Official Site and Twitter account.
Here are some other articles we think you'll enjoy
Liked this article? Stay informed!
Tell Us What You Think