Sean Paul Turns the Metropolis into a Dance Hall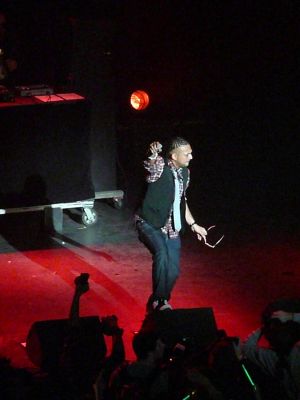 Normally when I head to the Metropolis to see a show, I'm prepared to handle the heavy guitar riffs, the crazy moshers, and the expected sore neck after a night of head banging. Last night was very different; Sean Paul brought his GrooveLand Tour to Montreal's Metropolis to a packed house. Not only did he manage to fill the venue, he, along with the help of his many opening acts turned it into a dance hall.

Guitar riffs were replaced by thumping bass, moshing was replaced with hip grinding, and the sore neck, well; it was replaced with a smile I guess. It was a great sight to see so many people dancing and having a great time.
DJ Groove and Keith Dean
Fans that arrived early were treated to the skills of the tour DJ, DJ Groove. His partner in crime was Keith Dean who served as an excellent hype man really getting the crowd into it. They played crowd favorites like Jay Z, M.I.A, Black Eyed Peas and my favourite, Bob Marley's No Woman No Cry. Dean dedicated it to the people of Haiti making sure that everyone knew that they should donate whatever they could.
Natural Born Artists
Pretty short set from these guys, just two songs. The little time that they were on stage, they managed to make quite a few fans, it definitely helps when you throw freebies into the crowd.
Dance O Die
The duo of Aby Prince and Faya have quite the following here in Montreal. These guys have collaborated on tracks with Elephant Man and Beenie Man and are currently in the process of creating their next album. Their sound is familiar, one of the guys sounded just like Sean Paul; there were a couple of times where I thought he was on stage with them. Look out for their next single "Dreams" which should be released soon.
Bad New Brown
Definitely the surprise of the night for me. Paul Frappier (aka Bad News Brown) hit the stage with a mic, and a harmonica. The combination of his harmonica, the DJ and his rap skills blend together so well. After hearing his interesting sound, one can completely understand why he's opened for the likes of Snoop Dogg, N.E.R.D, 50 Cent and even Aerosmith. Words can't really describe Bad News Brown, its just best to hear it for yourself, so check out his website and see what you think - http://www.myspace.com/brizbrown
Karl Wolf
As soon as they brought out Karl Wolf's stage banners, the crowd went crazy. The best comparison I could make on the decibel level reached last night would have to be what I heard when I went to the New Kids on the Block show (yes, I was there, and I loved it).

Playing his radio hits like Africa, Carrera and Yalla Habibi, he did not disappoint. An added bonus to his set was the live drummer. All the other acts were performing with a DJ providing the drum tracks, but having the live drums added that extra thump that got your feet moving. The short set was high energy and definitely got the crowd ready for the headliner, Mr. Sean Paul.
Sean Paul
Keeping it simple with his DJ, two MC's and the occasional dancer, Sean Paul got people in the crowd to move. From "signaling the plane" to "rowing the boat" to "giving dem da run" the crowd was feeling the dancehall vibe. Playing all the hits starting with 'Get Busy', 'Give it Up to Me', 'Baby Boy', it was just hit after hit. It also made me realize that I know more Sean Paul songs than I had thought.

It wasn't just the old school Sean Paul on display at the Metropolis, a few songs from his latest CD "Imperial Blaze" also got the crowd jumping. "So Fine" and "She Wanna Be Down" were personal highlights".

CD recordings don't do artists like Sean Paul justice, their music needs to be heard live, only then can you truly appreciate how it was meant to be heard, with the passion of the artist, with the energy of the crowd and with the couple hundred people who just want to dance.
Here are some other articles we think you'll enjoy
Liked this article? Stay informed!
Tell Us What You Think