Interview with Alexx Calise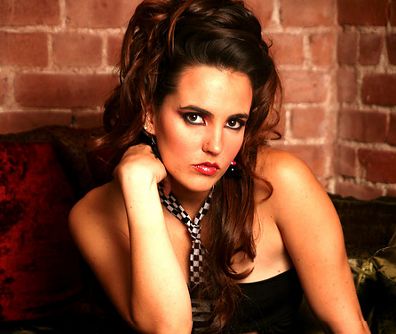 Throw your words at me, I'll have my way with them are the punchy, biting words of singer, songwriter, and guitarist Alexx Calise. Hailing from Fort Lauderdale, Florida originally, she now calls California her home. You may know her song, Morning Pill, featured on the CW network show, One Tree Hill, or from its heavy rotation on MTV or VH1. You may have seen her featured in the book, How to Succeed as a Female Guitarist, alongside Lisa Loeb, The Donnas, and others. You may know her for her strong vocals, deep lyrics, and multitude of endorsements. If you don't know about her, it's good that you've dropped by. Read on.
I chatted with Alexx about her two upcoming albums, new video, fans, extra-musical hobbies, and more.


UpVenue (UP): You must be excited; your album is coming out very soon.
Alexx Calise (AC): Yeah, it should be out in the next two or three weeks. We're just finishing up; we have another two songs to record and finish mixing and it's pretty much in the can - it's done.

UP: Do you have an album title yet?
AC: Yeah, it's going to be called In Avanti; it's Italian. It means "onward."
UP: That's a really cool title. What lead you to choose that title?
AC: I chose it because it has a nice ring to it, and it's also very simple but also very poignant. It's representative of me moving on in my life and my career. I just wanted it to represent that.
UP: Is that a recurring theme in the songs of your new album?
AC: To some extent, yes. I write a lot of existential lyrics, so they're very self-reflective. A lot of them seem to have a theme of strength and self-preservation.
UP: And for people who haven't heard your music yet, how would you describe your sound?
AC: It's kind of like Alanis Morissette meets Prodigy; it's really electronic rock. It's pretty cool, though. [...] Some of the songs on my MySpace are going to be on my new album so it's a pretty accurate portrayal of what the new album will sound like.

UP: I've heard that you're going for a bit of a different sound this time - how so?
AC: I don't think my last record was as cohesive as this one is; this one is much more produced, in terms of vocal harmonies and the musical end of it. It's very electronic rock, you know? We call it Rocktronica.
UP: Cool. And you have another music project, Sound of Cancer. How does it differ from your solo work?
AC: Sound of Cancer is much different in the regard that it's a cross between Massive Attack, The Cure, and Portishead; it's vocally driven. It's also musically driven so it's very intricate; there's a lot of choral harmonies we use; sometimes we'll do like 12-part harmonies.
UP: Wow.
AC: It's craziness. Musically speaking, there's a lot of elaborate, dark soundscapes going on. It's drastically different in the regard that it's very, very dark, in comparison with my other one.

UP: It sounds awesome. When is it coming out?
AC: That one is going to take a little more time, probably a month or two, following the release of my solo record, because we have to lay down tracks, which always takes a while and there's the mixing.

UP: And on your solo album, do you have any early favorites?
AC: That's hard to say...there's one I just have the music for so far; I don't have the lyrics written yet, believe it or not, but that one is really resonating with me so far. I guess Out of Sight is another one that I really enjoy. The meaning behind it is very existential, self-exploratory, and is really deep. For some reason, that song really resonates with me and with my fans so far.

UP: Speaking of your fans, have you been testing out material at the shows you've been doing?
AC: Yeah. I haven't been playing a lot of live and loud shows, but I've been doing some acoustic shows here and there, just testing out new material. For example, I just played last week and my drummer accompanied me for a few songs, too. It was pretty well received. I think that people liked the material, so I have a good feeling about the record, for sure.
UP: So how does it feel when you see one of your fans singing your lyrics back at you at one of your shows?
AC: That's pretty incredible because, you know, lyrics, to me, are the most integral part of my music, because the meanings are so deep, and they're very close to my heart, and very personal, so when people mouth your lyrics back to you, it's an amazing feeling because it's almost like they're sharing the feelings and emotions you had writing them.
UP: Do have plans to do more shows in 2010?
AC: Oh yeah, for sure. I'm trying to get the two albums released, but following all of that, I'm planning on doing some extensive touring. I'm not sure exactly where that's going to be. I've had some offers for Europe and everything, and I'd love to go to Canada; that would be awesome.

UP: Yeah, come to Canada! I'd love to see you live. I've seen some videos, and I love the acoustic sets you do. I'd love to see plugged in too, but, you know, I won't be picky.
AC: Thank you. The Canadian audience is really cool; I've met several of my fans from there, and they're just really cool people, they just really love American music.

UP: Cool. And what's been the proudest moment of your musical career so far?
AC: There's been a few of them that have been kind of pivotal, you know? But it's kind of crazy every time I hear my music on t.v.; it's a little jarring. A friend of mine had called me up, and he was like, 'Your music is playing on The CW Network right now.' I'm like, 'Get out of here!' You know, my song, Morning Pill, is being used quite frequently for a promo for One Tree Hill, so that was pretty cool. Pretty awesome to hear it on t.v.

UP: I can't even imagine how that felt.
AC: Yeah, it was pretty cool, not gonna lie.

UP: How did the One Tree Hill collaboration come about?
AC: I'm associated with a few licensing agencies, so what licensing agencies do is they help place independent artists in film and television, so that's how that came about. But it's kind of weird, because sometimes these agencies will license your stuff, and you won't even know, so my friend called me and told me, 'Hey, your stuff's on t.v.' and I didn't even realize and was like, 'Oh...yeah!'

UP: So did you ever imagine your music would be on t.v. ? Were you ever watching t.v., and were like, 'One day my songs are going to be on this show'?
AC: I've always had fantasies about it, ever since I was a little kid, of being a famous musician. I even remember writing about it in my diary. [...] So I've kind of always known, since I was a little kid, that this was going to be my path, but it's still always really cool and jarring when you actually hear yourself on the radio or when you see it on t.v., it's almost unbelievable. I never really get used to it. It's always like, 'Did I just hear my song'? It's really weird.

UP: You've been featured in the book, How to Succeed as a Female Guitarist. Can you tell me a bit about that?
AC: I was actually contacted by the author, Vivian Clement, who wrote the book. She contacted me several years ago, and was like, 'I really like your music and I'd love for you to be in it.' It just kind of worked like that. Some of these things that I've gotten, I've stumbled upon it, and that's usually how everything happens in this business; it's just stumbling upon everything, and it was great because it was distributed through Alfred Publishing and are at a lot of these stores like Sam Ash and a lot of these big music distributors so it's just cool to see, and hopefully the younger girl musicians will pick it up and get something from it.
UP: Do you have any advice for women starting in the music industry, or female guitarists?
AC: I would say that you should only enter into an industry like this if it's what you truly love to do because - and I'm sure you've heard this a billion times, just from actors and actresses, and anyone involved in entertainment - there's a lot of rejection, a lot of negativity, and there's a lot of ups and downs. You have to make sure you have the stomach for it, and you really have to be in it for the love; you may never make a dime from it or you may never achieve the level of success that you hoped for. You have to do it because, bottom line, you love it, you know?

UP: True. You've been shooting for your new music video recently. When does it come out?
AC: It's awesome. We just finished shooting it Monday (February 15) of this week, actually. And without going into too much detail - I don't want to spoil the surprise or anything - I'm actually a doll in a few of the sequences.

UP: Cool.
AC: Without going too far into the story details or anything, it's for my first single that will be coming out, which is called Break Me.

UP: What, in your opinion, makes a great music video?
AC: I think it's mostly the performance of it and the actual concept. I was working with a phenomenal director; his name is Ricardo Moreno, and he's done videos for Sean Paul and Juan Gabriel and some of these Latin artists. He just had a really, really creative mind and a great eye. He always comes up with really great concepts so I'm so happy working with a really great team. I think that's the main thing, having a really good concept and executing that concept as best as you can.

UP: And what do you do when you're not doing music, and you're not writing...in your spare time? If you have any spare time...
AC: Spare time? Haha, I laugh at that one. Just like you, you probably don't have a lot of spare time, either.
UP: No... (laughs)
AC: (laughs) Whenever I can, I really like to read; I have a few favorite authors that I really enjoy, like Cormack McCarthy and Chuck Klosterman, and I like to work out, actually, whenever I can. And just relaxing, watching movies...anything that doesn't require thought. (laughs)

UP: (laughs) I know what you mean. What's one thing your fans don't know about you?
AC: Hmmm...that I'm actually really shy. You know, if given the opportunity, I would never speak again. I'm just kidding. But sometimes I find it intimidating to talk to people, or it's kind of uncomfortable just because I'm very quiet, actually, contrary to what you think right now because I'm yapping away about myself. I'm kind of a xenophobe in that regard, and kind of introverted.

UP: I know exactly what you mean, because even though I'm talking to you and called you up, I'm quiet, myself, so I can definitely understand where you're coming from. But when it's something you love to do, you find a way.
AC: Exactly.


For more about Alexx Calise, check out her official website and MySpace page.
Here are some other articles we think you'll enjoy
Liked this article? Stay informed!
Tell Us What You Think