Elias speak on tour, new music, growing success [interview]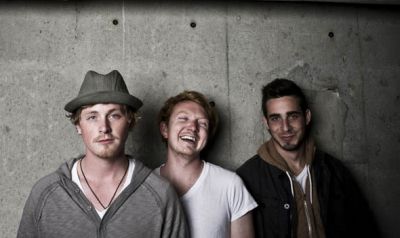 We recently had the opportunity to go backstage and share some words with Vancouver rock band Elias during their Snocore tour. Afterward, we were treated to a thirty minute set in front the Montreal crowd. There were some minor technical hiccups that the band can't be blamed for, but overall, the show was solid and got the crowd going. The band finished their night with "All We Want" which can be found below. In addition to the transcript, we were also have a two- part video interview, which you will find lower on the page.

Here's our Elias photo gallery from the show.
UP - For people who haven't met you guys before or know anything about Elias, can you introduce yourselves and talk a little bit about the band

Brain - Hi, I'm Brian and I play the pianos (laughs), I also play vocals (more laughs)

Stefan - I'm Stefan I play drums

Rob - and I'm Rob, I play guitars and sing some stuff... sometimes

UP - How did you guys meet, and how long ago was that?

Brian - Rob and I met... actually you know what, I was thinking about this the other day. The first time I ever saw Rob, he was in a play in high school where he was like the second lead or whatever... what was the character?

Rob - I don't know... It was a musical

Brian - It was the music man, I saw him sing Shaboopie, and I knew at that moment that I had to have him

Rob - He had to have me!

(laughs)

Rob - I've know Brian for 10 years now. I used to go to high school with his brother, and we were all in a band together over the years, and Stephan is kind of the newbie on the block, the young kid from the suburbs. Hes been playing with us for about a year and a half now, almost two years.

UP - Are you still going through the whole hazing period with him?

Rob - We'll ALWAYS go through the hazing with him

Stefan - Yeah, my initiation is not over yet

UP- This is the first day of the Snowcore tour, how did you become a part of it and what are you looking forward to?

Brian - We became a part of it just through our label, another one of the bands, "THESET" is also on the label and they sort of set the whole thing up, not theset, but the label set it up and so it was a good opportunity for us to get all the way across the country, and also to you know play to maybe a different style of music that we would normally get paired with. Hopefully peoples taste is broad and not limited to loud crazy stuff

UP – Have you toured with these guys before, or is it the first time performing with all of them?

Brian - We've played with the set before, because they're from Victoria and we're from Vancouver, so we've played with them on the island, and they've come across to Vancouver. The last show we played with them before we broke up and subsequently started being a band again, we played with them in Port Alberni, which is right between Nanaimo and Tapino on Vancouver Island. It was in like "Farmer Bills" field. It was an all day outdoor concert that kind of bombed.

Stephan - Gob headlined it

Brian - That was the last show we played with THESET. Actually, then we played with them at CMW last week.

UP - How was Canadian Music Week?

Brian - It was fun

UP - Did you get to see any bands that you haven't see before?

Brian - Umm... I got to see Plants and Animals, so that was good, I really like them.

UP - How was the overall experience being there?

Rob - CMW is awesome, we've been there before over the years, just playing showcases, so nothing really super new to us. This year was fun because we had a good showcase our label Wax Records put on. It was a good night, good venue, the place was packed really early for us, so it was pretty fun. The rest of the weekend was just a good time, usually hanging out with other people from Vancouver. Its so weird how you can come to Toronto and see all these Vancouver bands and hanging with other Vancouverites.

Brian - It was good too because we had it paired up with a lot of press, and then we did a photo shoot on one of the days so it was like we were here to play a 25 minute set, but there was a lot tied into that as well

UP - You mentioned getting a lot of press and different things like that, you're getting a lot of attention with the single "All We Want". Were you guys expecting that when you were recording that song?

Brian - We knew that was going to be a single, but, I don't think we ever expected anything to happen like what's happening with it, especially so quickly. Like we got calls from our label president and vice president just before Christmas. One of them was on holiday somewhere, and he's phoning us saying "did you hear? you guys got added to the edge in Toronto" and we're like "oh, that's good', and they're like, "No! You don't understand Its GREAT", we're like "Cool", and then the dominoes have been falling which is fantastic, we couldn't have asked for anything better than that, were being played across Canada

UP - That song is also associated with WarChild

Brian - Yeah

UP - How did that get hooked up?

Brian - When we did our tour with Pilot Speed in the fall, we played our first show in Calgary, and that was a Warchild show as well, and Barb Harmer, who is the artist liaison for Warchild was there, so we met her and got to talking her and Warchild and what they do. And they had been doing the busking for change thing that day in Calgary with some other bands that we knew as well, and they had done it before in like Toronto and other places in Canada. So coming up to December we thought it would cool to do something like that in Vancouver because it hadn't been done yet. So we kind of rallied up a whole bunch of artists from Vancouver, and everyone was really really willing to participate, which was awesome. And it was really not the nicest of days, it was like today, it was windy and cold, but people were out there singing their hearts out, so it was good. A good opportunity

UP - So you enjoyed that whole experience, the busking for change thing?

Brian - It was good. It was a little stressful running from location to location and making sure everything was on time, and we were doing press spots that day as well, so it was hard coordinating all that stuff. But once it was all said and done... it felt really good. And we're still doing stuff; we have an online petition that people can go to, http://www.eliasband.com/warchild , where they can get free music for signing the petition that increases support overseas spending.

UP - And you also get the music video for "All We Want" which is an added bonus.

Brian - Yeah

UP - Watching that video, who came up with that idea of just that one, well it looks like one continuous shot... or it's really good editing?

Brian - Yeah, it was one shot

Rob - We got in on the first shot. We did it in like four minutes and it was like That's it! It's a wrap. Pack it in... Which was funny. We tried to do other takes, but the first one just had so much specialness. I think everyone was just tired at the end of the day, we actually hopped on another videos film crew, so it didn't cost us any money... and yeah, we're all pretty happy with it. It's actually being re edited with a narrative so we'll have a new video which is coming out really soon

UP- Is the new video associated with War child?

Brian - The new one will just be a video video which will be sent to much music and things like that. I shouldn't say it's just a video, it's an amazing video

UP - It is, especially for one take

Brian - Yeah

UP - Where did you guys film it?

Brian - North York community theater …hall.... You know, in Toronto, there is a big theater where they do Jersey Boys... it was in the attached theater. So Jersey Boys was running in the adjacent theater, and we were on stage doing our thing, our crazy rock and roll music

UP - Did you get to catch a show as well?

Brian - No, we wish

UP - So I was reading your tweets as you were rolling into Montreal, there were some comments about smoked meat, have you guys had the chance to enjoy it?

Rob - Yeah, last night. Brian, myself and our bass player, we hit up Dunn's at 1am, I was actually hoping to hit Schwartz's. I've never been there before. We've hit Dunn's every time we're in Ottawa, so it was good. It was great to have the first day, but I have to watch it a bit, we tend to go a little bit crazy with the smoked meat

Brain - wait... we?

Rob - I do. But we're still hoping to hit Schwartz's

UP- Do you guys get the chance to enjoy the cities when you go to them, or is it more load in, and play

Brian - A perfect example is this being our first time in Montreal, we rolled in at 1am, walked to get food, went to bed, got up, came here, went to the radio station, came back here, did sound check, did press things and now the doors are open. We're actually leaving after our show to go to Ottawa because we have to be there at 8am on air thing in the morning... so yeah, you don't really get to see things, only around our hotel area, this (venue) area and that's about it

Stefan - One time in Ottawa we got to go see parliament

UP - Yeah, I saw the video

Stefan - yeah, me jumping around parliament.

*squeals of joy*

Brian - Best day ever

UP - Do you guys have any ideas of what the next single is going to be?

Brian - Yup

Rob - Possibly.

Brian - We don't know for sure but we think it's a song called "Broken Wings" off of our album. It's a louder one, so we're going into a different territory

UP- Different territory eh?

Brian - It think he's talking about our tour of the north West Territories

(laughs)

UP - So your album is called Lasting Distraction, where did the title come from?

Brian - It was out of the lyrics to one of the songs, and for one, we really just liked the sound of it, and like that usually a distraction just momentarily tears your attention away, but something like a lasting distraction takes your attention away for a longer period of time, its just kind of an interesting concept... so we kind of went with that

UP - On your album art it looks like a knight that sort of been...

Brian - Disassembled

UP - yeah, what inspired it?

Brian - We kind of started with an idea of colours and we liked the idea of washed out white on white thing, and we were thinking how can we use some of the song and lyric references that would best represent the whole album and in one of the songs called "Giving up Never Felt So Good", there is a reference to selling your armor, which was sort of like giving up what you do, your occupation, so that was where that came from. So it was the thrown discarded gauntlet down there, and when you open it up you see the whole pile of armor, so that was where that came from. It was all put together really quickly, we had like a week

UP- Did you guys do the artwork yourselves?

Brian - No, we collaborated with a company that's associated with our label and we were really really happy with what they turned out. It was pretty much... it's not exactly what we thought, but we were really happy with the way it turned out.

UP - I read somewhere that you thought you never really gelled with the Vancouver music scene, has that changed, or have you found that somewhere else?

Rob - I don't know, I mean it comes and goes, there have been so many fads that come and go like real hardcore stuff, like hippie rock and there are some things that Vancouverites get so excited about and only focuses on that so over the years we've always been struggling against something else that's more popular at the time. Not to say that there aren't bands we don't fit with in Vancouver, but it's definitely a battle in our home town, and even to this day we are even not considered to be hard enough to be in a certain scene, and not soft enough to be in a certain scene, so we're always just kind of in between. We have sort of found that Toronto is pretty open to it in thanks probably to The Edge

UP - Yeah, I've been hearing it on The Edge

Rob - oh yeah? That's awesome. That's totally something that's helped us a great deal in Toronto so there seems to be a lot of people receptive to it there. I don't know for a local band in Toronto there's as much of a polar opposites in terms of genres and what's popular at the time

UP - Are you guys planning on trying to filter down south to get some of the US crowd?

Brian- That's a very good question

Rob - We'd love too. Being a band from Vancouver, it's easier for us to go south to Seattle, Portland, Sacramento, San Francisco and LA, instead of going from Vancouver, Calgary, Regina. In terms of people, population an getting there, ease of travel and fuel costs, but its just impossible when trying to get across a border saying we're going to make a living and some money in the states, there's just so much red tape. There's this whole other infrastructure for Canadian based labels so we don't have someone in the states at this point in time for promoting and marketing, so even though it's like 20 minutes to get into the states from where we live, it's just a completely different world.

UP - So you've been compared to bands like the Beatles and Arcade Fire, how does that feel? Do you like the comparisons, or would you rather not be compared to others?

Rob - I think every band when they're starting out will be compared to someone, it doesn't matter who they are. You have to give someone a reference to what this band sounds like. I've never heard the Beatles thing before, that's pretty awesome. How could you not like that you know? I can't be offended by that. Maybe we don't see it? At least we're being compared to bands that we respect and like especially like Arcade Fire and the Beatles

UP - So where do you guys see this going?

Brian - Straight in the toilet!
(laughs)

UP - You're going to be on the Snowcore tour, what happens after that?

Brian - After that is more touring. We're not sure when the plan is to release the second single. We've kind of been building things off of All We Want, and that's been where one station will pick it up and then another station will pick it up here and there and its kind of scattered and slow process wise, but supposedly when we go to release the second one, hopefully they'll all be familiar with the band and will pick it up immediately and that will hopefully be more push and that will lead to more touring, lots more time on the road is what we think we've got in the near future.

UP - So you guys thrive off of the live shows?

Brian - I think that people really need to see a band live, especially with all the tricks that people can pull when recording. That's your whole straight ahead, can this band do it or not so you get up there andyou prove your work out there and we don't mind doing that because we enjoy playing live.

UP - I've seen some acoustic versions of the songs and in some cases, they are even better...

Rob - It wasn't something that came easy because our songs are quite a bit louder and rhythms are an integral part of it, so we'll have a tambourine and an acoustic guitar and its like how are we going to do this song now. It's been ok, it's been a challenge but I think some people actually do like it a bit more than we actually do... (laughs)

Brian – Where's the guitar riff !?!

UP - Your song "Dropouts", you talk about kids that think they are a waste of time, a waste of space, do you have an advice for kids who feel that way, or did you feel that way?

Brian - Yeah, I mean a lot of songs like that one, I remember sitting down, and it doesn't happen often like this, where you just write all of it in one sitting, but that one was like that, so I think for me, that comes from a weird place inside you when you're hitting a wall and I think its one of those representations of how everyone feels that way at a certain time, and they feel that way and its not really true. So maybe that what people can take from that you're not the only oneand I don't think anyone is worthless

UP - Alright, any closing words for people who don't know Elias and why they should listen to you guys?

Brian - Well, if they're skeptical, they can listen to our music online on MySpace...

UP - They can get their downloads from Warchild

Brian - Exactly, they can tweet with us too, they can hear about Rob's experiences with Schwartz's

Rob - (groans)... I'm hurting right now! I'll have to tweet that it in a couple of hours

Brian - yeah, they can follow us, we update in each town we roll into, we're always kind of posting things up and we're interactive online and get peoples feedback. That's a cool thing for us, it's a new thing

UP - yeah, I can see that. I'm not sure who does it. but even YouTube comments, you respond to what people have been saying...

Brian - Yeah

UP - Not a lot of bands do that

Rob - - Yeah, YouTube is fun, We didn't even know people were watching the video online till a couple of weeks ago, and its like oh shit! People are commenting and they're going to that instead of the MySpace, so we kind of try to direct them to the other stuff, but the YouTube comment thing never works for me and just freezes. UGH.

UP - Alright guys, I think that's it. Thanks for doing this

Brian - Our pleasure.
Video Interview Part 1 / 2
Video Interview Part 2 / 2
Here are some other articles we think you'll enjoy
Liked this article? Stay informed!
Tell Us What You Think