2015 Festival d'été de Québec Lineup Has Been Announced
300 Shows - 10 Stages - 11 Days Of Music - See which bands will be taking part in the 2015 Festival d'été de Québec.
Earlier today the lineup for The Festival D'ete De Quebec was announced. Taking place from July 9th to the 19th, this years lineup includes The Rolling Stones, Foo Fighters, Nickelback, Keith Urban, Iggy Azalea and more. A full list of artists can be found below.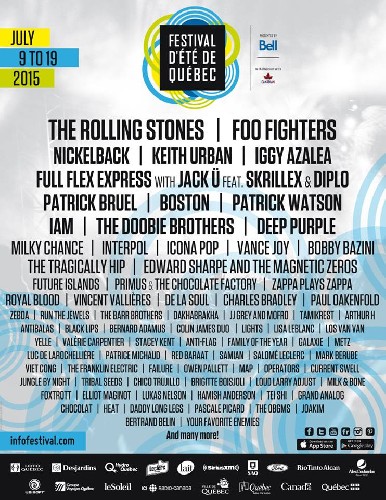 Presale festival passes go on sale at noon on April 9th until April 10th for $78. After that, prices will jump up to $88 until June 8th, and after that, tickets will be $98 until they're sold out. The festival passes give access to all of the venues for the duration of the festival. The prices mentioned above do include taxes and service fees, however shipping will be added. Packages are available; for more information, visit their official website.