The yearly gathering of Montreal's metal heads took place over the weekend and with three of the "big four" (Metallica, Slayer, and Anthrax) bands taking part, you know that it was one hell of a weekend. There were over 50 bands that took part in HeavyMTL 2014 and here are the ones whose performances stood out the most
Apocalyptica
Head-banging and cello playing doesn't usually go hand in hand — unless of course you're talking about Apocalyptica. Choosing to steer clear of playing any of their Metallica covers (since Metallica were the day 1 headliners), they did play two Sepultura ones - Inquisition Symphony and Refuse/Resist. During their performance of I Don't Care, Franky Perez (Scars on Broadway) joined them on vocals. It was also announced recently that Franky would be handling all of the vocal duties on Apocalyptica's upcoming album. To close out their set they played their version of In the Hall of the Mountain King .Overall they had a great energy and were one of the highlights of day 1.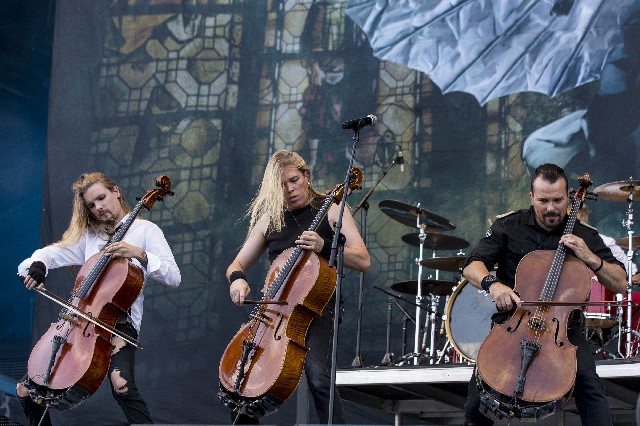 Photo credit: Tim Snow
Unlocking the Truth
I first heard about the New York based group Unlocking the Truth back when one of their live street videos went viral. At first it was their talent that pulled me in, but when I found out that the three piece were all either 13 or younger, I was blown away. Playing under the trees on the Forest Stage, they showed why they where invited to Heavy Montreal to play along side some of the biggest names in metal. Give them a few years and we'll surly see them rocking out on the main stages.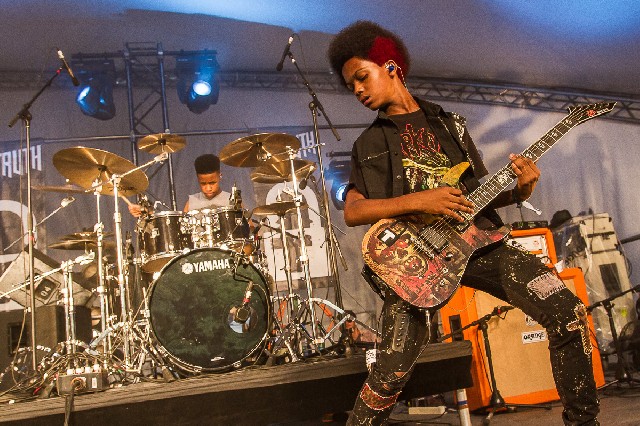 Photo credit: Vanessa Leclair
Dropkick Murphys
Kicking things off with The Boys Are Back, the Boston boys of Dropkick Murphys received an enthusiastic welcome from the Montreal crowd, however midway through their set, the 40,000 strong crowd boo'ed them loudly. Why you ask? Well, it went down like this:
Dropkick Murphys: You look like a good crowd! You look like a tough crowd!
Montreal: WOO!!!
Dropkick Murphys: You don't look like a bunch of crybabies! You'd almost think this was a Boston Bruins crowd!
Montreal: BOOOOOOOO!!!!!
Luckily for them, Montreal didn't hold a grudge and let those comments slide. Dropkick Murphys put on a great a great set including many songs off of their 2013 release, Signed and Sealed in Blood. Before closing out their set with I'm Shipping Up TO Boston, they played a great cover of AC/DC'd T.N.T. This is one Boston crew that Montreal would welcome back anytime.
The Offspring
On the 20th anniversary of the release of their 3rd album Smash, The Offspring announced that they'd be heading out on a summer/fall tour in which they'd play the full album including a few of their other hits. Luckily for us, that also included a stop in Montreal. As mentioned, they played Smash in its entirety along with a few of their other hits including All I Want and The Kids Aren't Alright.
Metallica
Having Metallica play Heavy Montreal was awesome enough, but it gets better — their entire setlist was chosen by the fans. It would be difficult to nail down one highlight, because their entire 2h 20min set was full of them. If you've ever been to one of their shows, you know that they like interacting with fans and getting as close as possible; throughout the night, they made full use of of ever inch of the stage and catwalk. While Lars may have been stuck behind his kit, he made sure to jump up on his stool and engage the crowd whenever the opportunity arose.
Playing some of their biggest hits like The Unforgiven, One, Enter Sandman, Nothing Else Matters, Ride The Lightning, and Blackened, their set was pure bliss. You can't really put into words what it's like being at a Metallica show (especially one with 40,000 other fans). You just had to be there.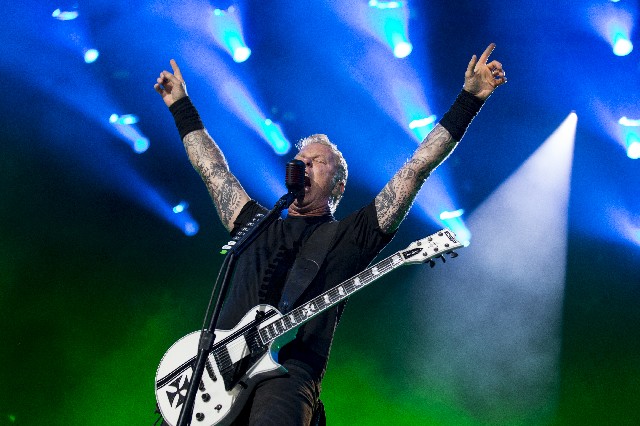 Photo credit: Tim Snow
And with that, 40,000 tired and sweaty metal heads made their way to the metro. While for some, that concluded their time at Heavy Montreal, for many, it was just the start. Continue on to page two for our Sunday highlights.
*header photo courtesy of Susan Moss