Krockathon-16 Concert Review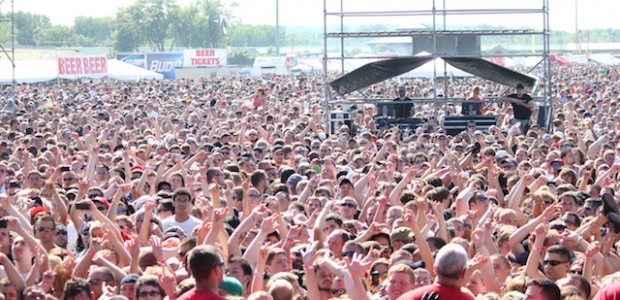 This weekend, rock music fans flocked to Syracuse, New York for Krockathon-16. The annual concert takes place in Central New York, and features big names, as well as local bands, in a lineup that showcases alternative rock, rap rock, and metal artists.
This year, Krockathon was home to 13 bands; here's a recap of five of them.
Sick puppies
When Sick Puppies hit the stage, a crowd quickly materialized, and they seemed energized from the first few notes played from opening track, War. The band then plunged into crowd favorites Cancer, My World, All The Same, Odd One, Maybe, Riptide, You're Going Down, and Nothing Really Matters. In between, they constantly engaged the crowd, and even did a cover of Rage Against the Machine's Killing in the Name. This was the biggest crowd I've seen them perform to, but the intimate feel they bring to every show--whether it's for 50 or 5000 fans--never changes. This band is on their way up.
Hollywood undead
More Hollywood Undead pictures
Rap rockers Hollywood Undead stormed onstage like they owned the place. The masked musicians are touring in promotion of their second album, American Tragedy, which was released this past April. While their music is not my taste, their dedicated fans seemed to enjoy themselves immensely. Their setlist included songs Undead, Sell Your Soul, City, No. 5, and Everywhere I Go.
Bush
More Bush pictures
The boys from Bush are back. The band broke up in 2002, but reunited last year. Gavin Rossdale & Co. took the stage like they'd never left. They performed many of the older songs that fans were hoping for, including Glycerine, Machinehead, Everything Zen, Swallowed, and my personal favorite, Comedown. I have wanted to see Bush live for ages; although I have waited a long time for the opportunity and my expectations were elevated, they did not disappoint.
Seether
More Seether pictures
Throughout Krockathon, the energy level of the crowd was elevated. When Seether hit the stage, however, that level was kicked up a few notches. The singing was louder, the fists pumped harder, the crowd surfing was frenzied, and even some of the security guards sang along while they worked. Seether is no stranger to this festival, and it showed. From the first riff of Gasoline, they had the crowd eating out of the palm of their hands. The setlist consisted of old and new tracks, including Remedy, Rise Above This, Fine Again, Broken, Fur Q, Fake It, and Country Song. Surprisingly, they did not perform Tonight, their next single.
The set ended with frontman Shaun Morgan destroying his guitar, and the crowd chanting, "Seether!" after they'd left the stage.
Stone Temple Pilots
More Stone Temple Pilots pictures
Veterans Stone Temple Pilots were the last to hit the stage. Frontman Scott Weiland strolled in with a megaphone in hand--he would use it throughout the night. They'd put the effort into the entire production, even down to the elaborate lighting and stage design. They opened with Crackerman, then weaved back and forth between old and new tracks. The biggest audience participation came with the older tracks--Big Empty and Plush in particular. Other songs on the setlist included Vasoline, Between The Lines, Interstate Love Song, and Dead & Bloated. When the band came back onstage for the encore, they ended their solid set with Trippin' on a Hole in a Paper Heart.
Other bands at the festival included Dropkick Murphys, The Airborne Toxic Event, My Darkest Days, Bayside, Rosehill Drive, Jetstream, Silent Fury, and The Click Clack Boom. Have pictures from Krockathon or another show? Don't forget to share them!
Here are some other articles we think you'll enjoy
Liked this article? Stay informed!
Which band would you have wanted to see the most?